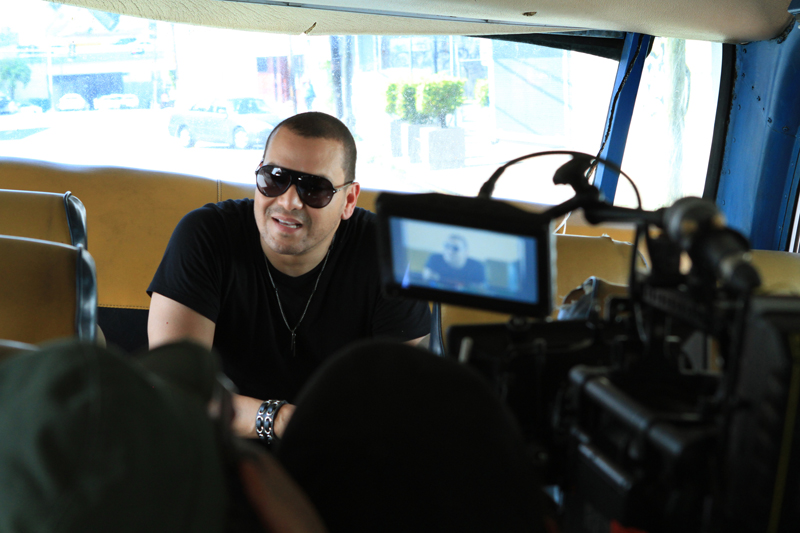 VICTOR MANUELLE
EL SALSERO CONSENTIDO DE AMÉRICA ESTRENA SU NUEVO VIDEO:
"SI TU ME BESAS"
New York, NY – (7 de diciembre, 2011) – El video correspondiente al primer sencillo de la nueva producción de Victor Manuelle, titulado Si Tú Me Besas, se estrena en EXCLUSIVA hoy miércoles 7 de diciembre en el programa Primer Impacto de la cadena Univisión en los Estados Unidos.
El cortometraje de este primer tema fue dirigido por Israel Lugo y Cesar Gonzalez, de la producción Rojo Chiringa y es una verdadera pieza de arte, filmada en varios locales del área metropolitana en Puerto Rico, que revela características de un Victor Manuelle que las fanáticas se mueren por descubrir.
En el transcurso del video se desarrolla un joven sensual quien una mañana camino al trabajo se da cuenta que el mundo se besa constantemente y que el puro acto es totalmente normal y contagioso. Las fanáticas tendrán la oportunidad de decidir qué es lo que sucede realimente en este increíble video, cual nos devela un Victor Manuelle como nunca antes lo habíamos visto.
Victor Manuelle, la gran estrella salsera quien a vendido millones de copias a nivel internacional, está brillando como nunca antes con este nuevo álbum que lo tiene de pie firmemente y por todas partes a través de los medios arrasando con su fanaticada y ocupando la posición #3 en las listas de la Revista Billboard.
Y como si toda la euforia de su nuevo álbum Busco Un Pueblo pautado para salir al mercado a principios del 2012 y su nuevo video Si Tu Me Besas no fuesen suficiente, Victor Manuelle continúa con presentaciones en Latinoamérica y Estados Unidos contagiándonos con su ritmo y ahora con sus besos!
¡Definitivamente a VICTOR MANUELLE no lo detiene nadie!
VICTOR MANUELLE
AMERICA'S "SALSERO" DARLING PREMIERES HIS NEW VIDEO:
"SI TU ME BESAS"
New York, NY – (December 7, 2011) – The video for Si Tú Me Besas, the first single from Victor Manuelle'snew album, will premiere today, Wednesday, December 7th, EXCLUSIVELY on Primer Impacto, on the Univision network in the United States.
The video for this first track was directed by Israel Lugo and Cesar Gonzalez, from Rojo Chiringa Productions and is a true piece of art. Filmed in various locations throughout Puerto Rico's metropolitan area, it reveals a side of Victor Manuelle that fans would die to discover.
As the story develops a sensual young man heading to work in the morning realizes that the whole world is constantly kissing and that the mere act is totally normal and contagious. Fans will have the opportunity to decide what really happens in this incredible video that reveals Victor Manuelle as we've never seen him before.
Victor Manuelle, the great salsa superstar who has sold millions of copies worldwide now shines brighter than ever with this new album, standing strong, sweeping over media outlets everywhere with his fans, and occupying the #3 position on the Billboard charts.
As if all the excitement for his new video Si Tu Me Besas and hisupcoming album, Busco Un Pueblo, set for release in early 2012, were not enough, Victor Manuelle continues with shows throughout Latin America and the United States with his contagious rhythm and sharing his kisses.
There is definitely no stopping VICTOR MANUELLE!