Se convierte en número uno la Fórmula de Romeo Debutando #1 / ROMEO SANTOS' Debut "Formula Vol. 1" Delivers Lati n Music's Strongest First Week Sales In Over Four Years
Se convierte en número uno la Fórmula de Romeo
– Debuta #1 en ventas con su disco como solista –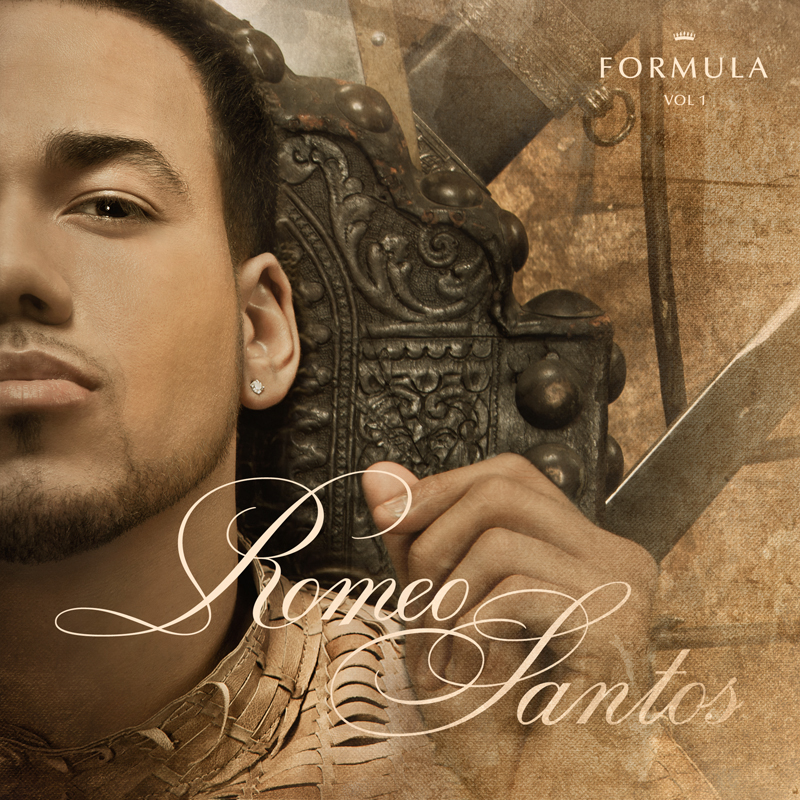 Formula Vol. 1
Superando su propio récord junto al grupo Aventura, con más de 60 mil copias vendidas, Romeo Santos logra con su disco Fórmula Vol. 1 convertirse en el número uno de las listas de ventas en apenas una semana de haber salido al mercado esta producción. Con esta hazaña el cantautor supera los últimos grandes lanzamientos de Maná, Shakira entre otros, posicionándose como el artista más aclamado del momento.
Asimismo su tema "Promise" junto al cantante Usher continúa # 1 en radio por quinta semana consecutiva, dejando claro que Romeo es sin duda alguna el Rey de la bachata,convirtiendose en la canción con más descargas digitales en los Estados Unidos.
Recientemente el artista paralizó las ciudades de Los Ángeles, Miami y Nueva York con sus "instores" a los que se dieron cita miles de fanáticos del creador de "You". "Ver la aceptación que ha tenido este disco es para mí algo increíble. Una experiencia que me llena de mucha emoción pues aunque confiaba en este disco, no esperaba esta impresionante acogida de los fans a quienes agradezco enormemente el que me hayan colocado en el número uno .Asimismo a las emisoras de radio que siempre me han brindado su apoyo", comentó Romeo sobre el disco doble que contiene 20 temas y un DVD. "Sigue siendo bachata combinada con varios elementos. Es un 60 por ciento bachata y 40 por ciento de cosas que nunca he hecho".
"Formula Vol. 1" cuenta con la participación especial de: LIL WAYNE, PITBULL, USHER, MARIO DOMM de CAMILA,
LA MALA RODRIGUEZ, TOMATITO, ANTHONY SANTOS entre otros.
A la par con el lanzamiento de "Formula, Vol. 1" el periódico New York Times dedicó dos páginas elogiando el trabajo de Romeo y recalcando que este artista no necesitó cantar en otro idioma para hacer el Crossover. Y es que Romeo solo necesita de su estilo, su ritmo, su voz y su simpatía para dejar saber que su Formula es la número uno y punto. http://www.nytimes.com/pages/arts/music/index.html
###
ROMEO SANTOS' Solo Debut "Formula Vol. 1"
Delivers Latin Music's Strongest First Week Sales In Over Four Years
With Over SIXTY-TWO THOUSAND Albums Scanned, Formula Vol. 1 Easily Debuts At #1 On Billboard's "Top Latin Albums" Chart And Lands In The Top-10 Of The Overall "Billboard 200" Album Chart.
Thanks To The Passionate Support Of Santos' Large Bilingual Fanbase,
ROMEO IS THE #1 SELLING ARTIST REGARDLESS OF GENRE THIS WEEK IN
NEW YORK CITY, HOUSTON, MIAMI AND PUERTO RICO
"Bachata Star Santos has No. 1 album & a planned TV sitcom. …Romeo Santos can stop traffic. Literally. Crossing the stretch of Broadway in front of the record store where the bachata star made an appearance on Sunday was next to impossible for several hours. Thousands of fans packed in for three blocks. Some had camped overnight. The lucky ones waited for a chance to meet Bronx-born Santos. Others simply waited for a glimpse. A week after release, the singer's debut solo album, "Formula, Vol. 1" is already No. 1 in sales on Billboard's Latin Albums chart. "Promise," the record's first single, a bilingual duet with Usher, was the No. 1 Latin track even before their charming live performance at the Latin Grammys that had the R&B star attempting a couple of bachata swing-and-hop steps. Santos' star is clearly on the rise." – The New York Daily News, 11/16/11
In Response To Heavy Fan Demand And Reports That Album Copies Have Already Sold-Out Across Much Of The City,
A Unique Second New York Instore Event For Romeo Santos Is Now Planned:
On Thursday, November 17th, A Physical Record Store Will Return To Times Square For One Special Day As The Best Buy Theatre (1515 Broadway @ 44th Street) Will Be Converted Into A Pop-Up Album Sales And Instore Signing Location For Additional Fans To Meet Romeo Santos Beginning At 6:00PM
To Get A Deeper Look Into Romeo Santos' Formula Vol. 1, Watch A New EPK Here: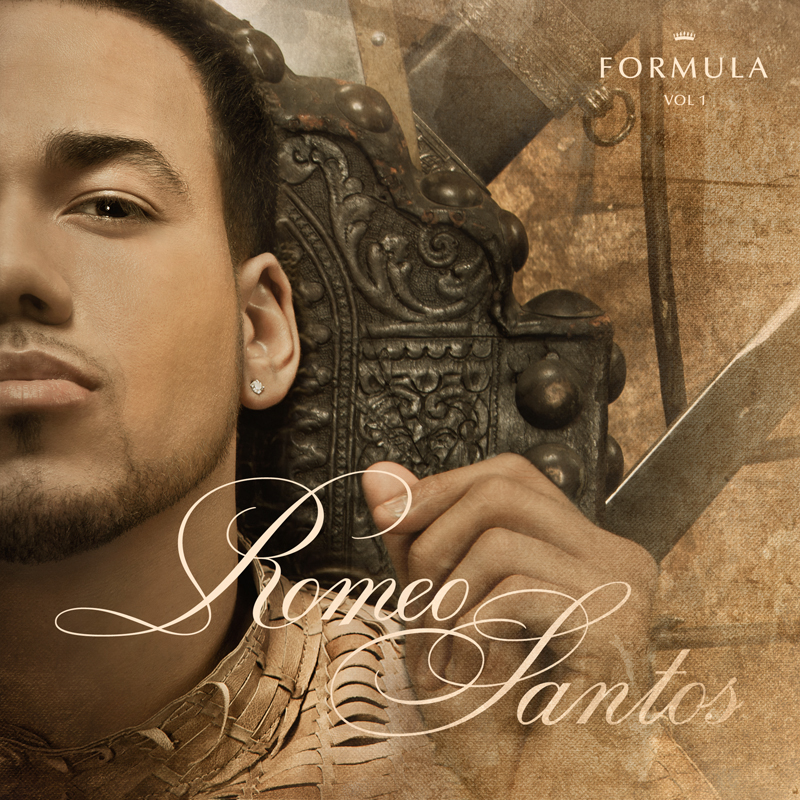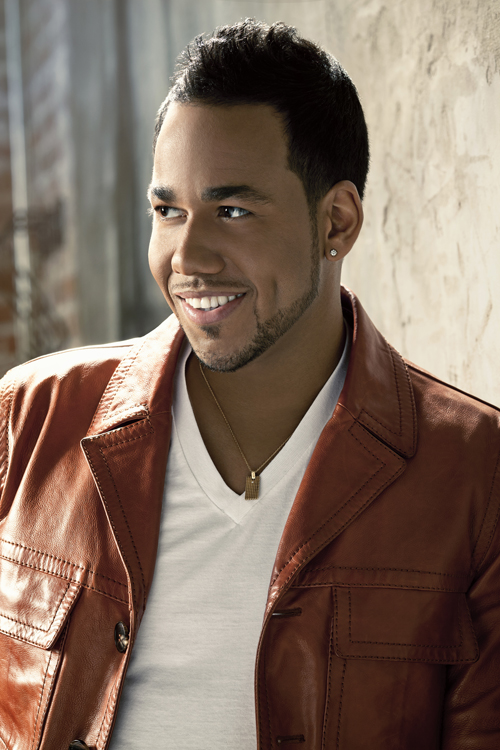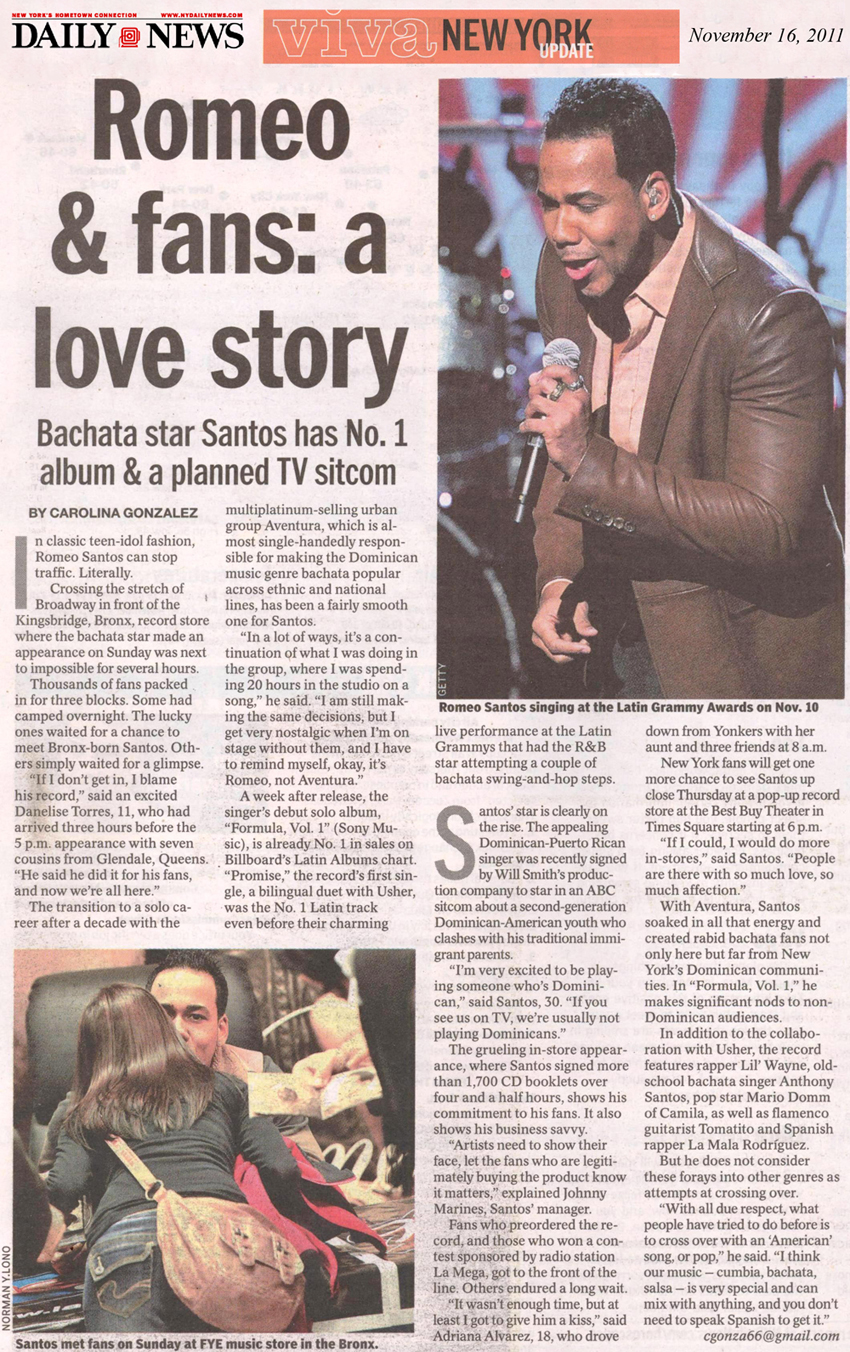 4 Responses to "Se convierte en número uno la Fórmula de Romeo Debutando #1 / ROMEO SANTOS' Debut "Formula Vol. 1" Delivers Lati n Music's Strongest First Week Sales In Over Four Years"
q estupides tan mas grande diosmio

kien cre en esa bola de basura q oso creanme no he visto una estupides tan mas grande no se an pensativos pordios………………

qqqqqqqqqqqqqqqquuuuuuuuuuuuuuuuuuueeeeeeeeeeeee
mmmmmmmmmmmmmmaaaaaaaaaaaaaaaaaaalllllllllllllllllllllllllllllllll………….

I used to be suggested this web site by my cousin. I'm no longer
sure whether this put up is written by means
of him as nobody else recognize such precise about my problem.

You are wonderful! Thank you!