SHAKIRA RECIBE HOMENAJE DE LARAS COMO "PERSONA DEL AÑO 2011" / SHAKIRA HONORED AS "2011 LARAS PERSON OF THE YEAR"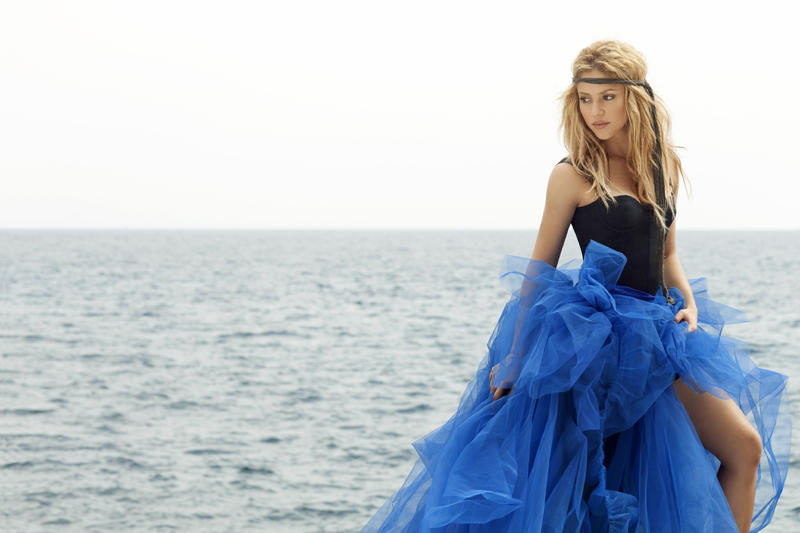 SHAKIRA RECIBE HOMENAJE DE LA ACADEMIA LATINA DE GRABACIÓN® AL SER NOMBRADA
"PERSONA DEL AÑO 2011"
Miami, FL (10 de noviembre 2011) – Shakira, indiscutible luminaria internacional de la música pop y representante máxima de los latinos a nivel mundial recibió anoche un nuevo honor al convertirse en la "Persona del Año 2011" de la Academia Latina de Grabación durante una elegante cena y concierto que se dio lugar en el centro de convenciones del Mandalay Bay de Las Vegas, Nevada.
Shakira fue acompañada de varias estrellas de la música que rindieron homenaje tanto a su legado musical como a sus contribuciones filantrópicas y culturales a lo largo de su carrera. Este tributo y concierto se considera una de los eventos más prestigiosos durante la semana de celebración de los Latin Grammys y por tanto contó con la asistencia de varios nominados, celebridades, al igual que otras figuras importantes de la industria de la música.
Entre los artistas invitados se encontraban: Alejandra Guzmán, Natalia Jímenez, Christian Castro, Vicentico, Franco de Vita, Pepe Aguilar, Estopa, Jorge Drexler, Jorge Celedón, Jimmy Zambrano, Victor Manuelle, Aleks Syntek, Gilberto Santa Rosa y Marc Anthony, quien le presentó el premio a la talentosa cantante colombiana.
Por su parte, Shakira, quién también está nominada para tres Latin Grammys, que incluyen "Álbum del año" por su producción Sale El Sol, se mostró muy agradecida por el honorable galardón al expresar que "es un verdadero honor estar en la compañía de algunos de los artistas y leyendas más grandes de la música latina".
La cantante también tuvo un momento muy emotivo, luego de que su padre, William le dedicara una canción que él mismo interpretó.
Un gran porcentaje de los ingresos netos de esta noche de celebración beneficiará a las obras de la Fundación Pies Descalzos, una organización benéfica fundada por Shakira que ofrece escuelas especiales para niños de escasos recursos en toda Colombia, así como también a los programas de educación de La Academia Latina de la Grabación.
Sony Music felicita a Shakira por ser un orgullo para toda la industria de la música latina no solo por su talento sino por ser una ejemplar inspiración a seguir.
SHAKIRA HONORED AS "2011 LATIN RECORDING ACADEMY PERSON OF THE YEAR"
Miami, FL (November 10, 2011) – Shakira, indisputable international pop superstar and top pride for Latinos on a global level, was honored last night as the 2011 Latin Recording Academy "Person of the Year" during a gala dinner and concert that took place in the convention center of the Mandalay Bay in Las Vegas, Nevada.
Shakira was joined by various fellow music stars that not only paid tribute to her musical legacy, but also to her philanthropic and cultural contributions throughout her career. This tribute and concert is considered one of the most prestigious events during Latin Grammy week and hence several nominees, celebrities and other important figures in the music industry attended.
Among the artists invited were: Alejandra Guzmán, Natalia Jímenez, Christian Castro, Vicentico, Franco de Vita, Pepe Aguilar, Estopa, Jorge Drexler, Jorge Celedón, Jimmy Zambrano, Victor Manuelle, Aleks Syntek, Gilberto Santa Rosa, and Marc Anthony, who presented the award to the gifted Colombian artist.
On her end, Shakira, who is also nominated for three Latin Grammys, including "Album of the Year" for Sale El Sol, showed her appreciation for receiving this distinguished award by expressing that "it is a true honor to be in the company of some of the greatest artists and legends in Latin music."
The singer also had a highly emotional moment after her father, William dedicated a song to her, which he interpreted himself.
A large portion of the net profits from this night's celebration will benefit the initiatives of Fundación Pies Descalzos, a non-profit organization founded by Shakira that offers special schools for children with scarce resources throughout Colombia; as well as the education programs of the Latin Recording Academy.
Sony Music congratulates Shakira for being a source of pride for the Latin music industry not only though her talent but by being an outstanding inspiration for all.