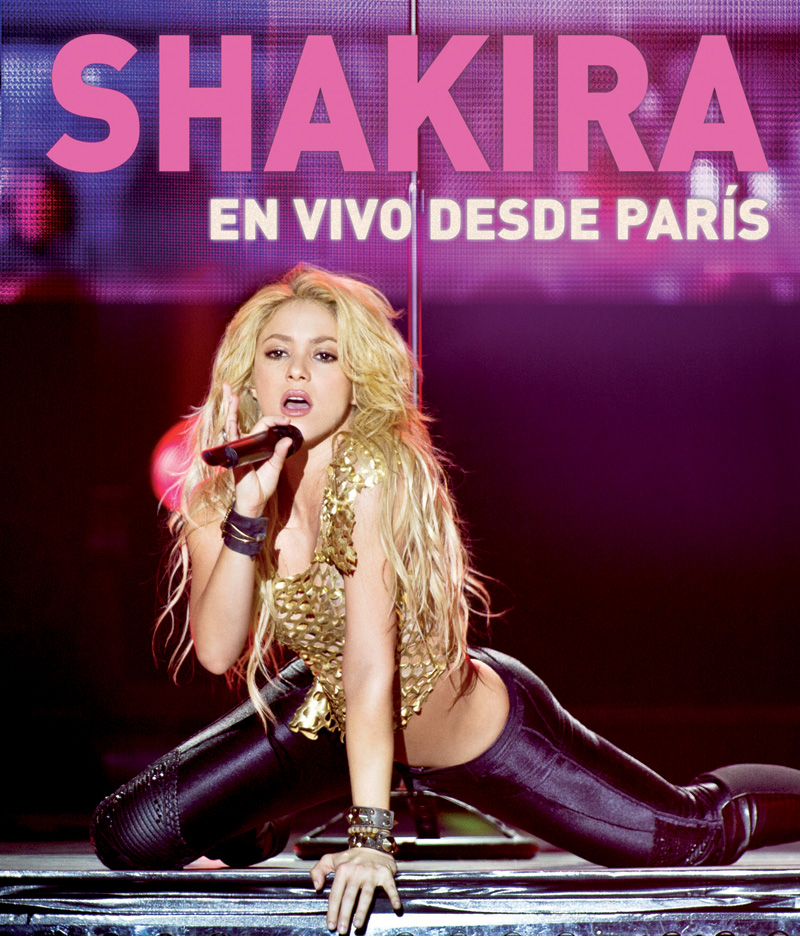 (English below)
"SHAKIRA, EN VIVO DESDE PARIS"
DISPONIBLE EL PROXIMO 6 DE DICIEMBRE CELEBRANDO EL
ÉXITO DE SU TOUR MUNDIAL "SALE EL SOL"
EL CONCIERTO COMPLETO, MAS IMÁGENES DETRÁS DE CAMARAS
Miami, FL (2 de noviembre de 2011) – Tras la culminación de su aclamado "sold-out" tour mundial, Shakira lanza al mercado "Shakira, En Vivo Desde Paris" el próximo 6 de Diciembre. Este especial en vivo que fue grabado en el Palais de Bercy, Paris, Francia, estará disponible en tres diferentes formatos, DVD + CD audio en vivo, DVD y Blue Ray, e incluye hits mundiales como "Waka Waka (Esto es África)," Hips Don't Lie" y "Whenever, Wherever." Los fans podrán disfrutar de Shakira como nunca antes con acceso total a imágenes detrás de cámaras.
El reciente tour de Shakira se convirtió en uno de los eventos más elogiados del 2010-2011 por la presa internacional. The New York Times dijo, "En el Madison Square Garden, Shakira es una estrella…" y el Hollywood Reporter describió su espectáculo como, "Un magnifico despliegue de luces y música." Mientras que The Los Angeles Times dijo, "Shakira desató su plan, lleno de talento y con el carisma clásico de una superestrella."
El tour mundial "Sale el Sol" que dio inicio en el otoño del 2010 en Montreal, Canadá y concluyó hace algunas semanas en San Juan, Puerto Rico, incluyó 112 shows en 42 países y más de 100 ciudades alrededor del mundo, con una audiencia de más de dos millones de personas.
El DVD y Blue Ray "Shakira, En Vivo Desde Paris" incluye 22 canciones y el CD veinte temas en vivo.
Tras la culminación de su tour mundial el pasado mes, Shakira fue oficialmente nombrada como Integrante de la Comisión Asesora del Presidente Barack Obama sobre Excelencia Educativa para Hispanos. La próxima semana Shakira será homenajeada con una estrella en el paseo de la fama de Hollywood por sus logros musicales y también recibirá el honor de "La Persona del Año 2011" por la Academia Latina de la Grabación durante la 12ª entrega anual de Los Latin Grammys.
"Shakira, En Vivo Desde Paris" incluye:
Pienso en Ti
Why Wait
Te Dejo Madrid
Si Te Vas
Whenever Wherever
Inevitable
Nothing Else Matters
Despedida
Gypsy
La Tortura
Ciega Sordomuda
Underneath Your Clothes
Gordita
Sale el Sol
Las de la Intuicion
Loca
She Wolf
Ojos Asi
Antes de las Seis
Je L'Aime a Mourir
Hips Don't Lie
Waka Waka
"SHAKIRA, LIVE FROM PARIS"
TO BE RELEASED DECEMBER 6TH CELEBRATING THE
WORLDWIDE SUCCESS OF "THE SUN COMES OUT" TOUR
FULL CONCERT AND BEHIND THE SCENES FOOTAGE
Miami, FL (November 2, 2001) – Following the culmination of her highly acclaimed, sold-out worldwide tour, Shakira is set to release "Shakira, Live From Paris" on December 6th. This special live concert fan must-have, shot at the Palais de Bercy, in Paris, France, is available in three different formats, DVD + live audio CD, DVD and Blue-Ray, and includes global hits such as "Waka Waka (This Time for Africa)," "Hips Don't Lie" and "Whenever, Wherever." Fans will get to experience Shakira like never before with an all-access pass to behind-the-scenes documentary footage.
Shakira's recent world tour became one of the most praised touring events of 2010-2011 with The New York Times exclaiming, "At the Garden, Shakira is a Star…" and The Hollywood Reporter describing her show as, "A magnificent parade of light and music." The Los Angeles Times went on to say, "Shakira was carrying out a plan, skillfully and with no shortage of superstar charisma."
"The Sun Comes Out" world tour, which kicked off in the fall of 2010 in Montreal, Canada and concluded just weeks ago in San Juan, Puerto Rico, included 112 shows in 42 countries and more than 100 cities around the world, and was seen by an estimated audience of over two million people.
The "Shakira, Live From Paris" DVD and Blue-Ray will include twenty-two songs and the live audio CD portion of the CD/DVD bundle will include twenty live tracks.
Following the end of Shakira's world tour last month, she was officially appointed to a key administrative post on President Barack Obama's Advisory Commission for Hispanic Educational Excellence. Next week she will be honored with a star on Hollywood Walk of Fame in the Category of Recording and will also be celebrated as "The 2011 Person of the Year" by the Latin Recording Academy, during the 12th Annual Latin Grammy Awards.
"Shakira, Live From Paris" Tracklisting
Pienso en Ti
Why Wait
Te Dejo Madrid
Si Te Vas
Whenever Wherever
Inevitable
Nothing Else Matters
Despedida
Gypsy
La Tortura
Ciega Sordomuda
Underneath Your Clothes
Gordita
Sale el Sol
Las de la Intuicion
Loca
She Wolf
Ojos Asi
Antes de las Seis
Je L'Aime a Mourir
Hips Don't Lie
Waka Waka