FRANCO DE VITA LANZA NUEVO SENCILLO A DÚO CON DEBI NOVA / FRANCO DE VITA WILL RELEASE DUET WITH DEBI NOVA AS NEW S INGLE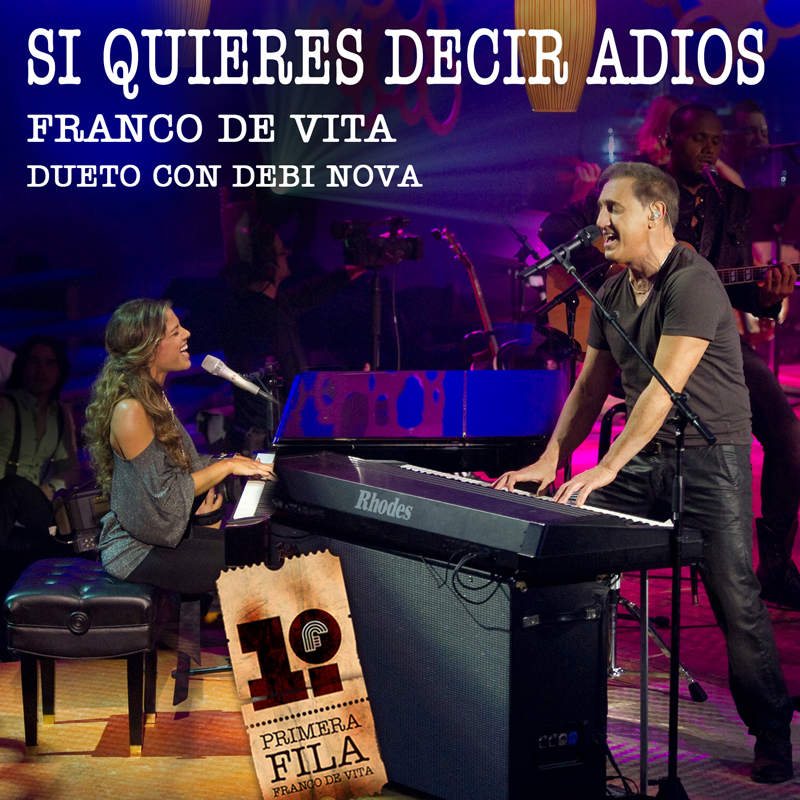 PARA DISTRIBUCIÓN INMEDIATA
(English below)
FRANCO DE VITA LANZA NUEVO SENCILLO A DÚO CON DEBI NOVA
Miami, FL (24 de octubre, 2011). Nominado en cinco categorías para los Latin Grammys 2011, el gran maestro de la canción, Franco de Vita presenta esta semana su nuevo tema titulado, Si quieres decir adiós, el cual interpreta a dúo con la talentosa cantautora costarricense, Debi Nova.
Si quieres decir adiós ya está disponible en formato digital en iTunes y alcanza la radio el 24 de octubre. El tema es el próximo sencillo promocional de la producción Franco de Vita: En Primera Fila.
Dicho álbum ha resultado todo un triunfo para el dotado cantautor venezolano, quien ha cosechado ya un sinnúmero de victorias alrededor del mismo. Entre ellas una fructífera gira de conciertos en varias ciudades principales de Latinoamérica y los Estados Unidos; un acuerdo exclusivo con AT&T Uverse para trasmitir el espectáculo en el que se grabó el disco en vivo, como parte de la programación especial On Demand para celebrar el mes de la hispanidad; además de obtener cinco prestigiosas nominaciones a los Latin Grammys en las siguientes categorías: "Album del año"; "Mejor Álbum Vocal Pop Masculino"; "Grabación del año" por Tan Solo Tú, a dúo con Alejandra Guzmán; "Mejor Video Musical Versión Corta" por Tan Solo Tú; "Mejor Video Musical Versión Larga" por el DVD En Primera Fila.
¡Sony Music felicita a Franco De Vita por todo su éxito y ahora este nuevo lanzamiento!
El vídeo de Si quieres decir adiós también ya está disponible y puedes verlo aquí.
Mantente al tanto de todos los logros de Franco de Vita en: www.francodevita.com
FRANCO DE VITA WILL RELEASE DUET WITH DEBI NOVA AS NEW SINGLE
Miami, FL (October 21, 2011). Five-time-Latin-Grammy-nominee and songwriting master, Franco de Vita presents this week his new track, Si quieres decir adiós, a duet with the gifted Costa Rican singer-songwriter, Debi Nova.
Si quieres decir adiós is currently available in digital format on iTunes and will reach radio on October 24th. The song is the next promotional single from the album, Franco de Vita: En Primera Fila.
Said production has been a total success for the talented Venezuelan singer songwriter, who has reaped a number of triumphs as a result of it. Among them, a fruitful concert tour in various Latin American and US cities; an exclusive deal with AT&T Uverse to broadcast the live show where the album was recorded as a part of the special OnDemand programming in celebration of Hipanic Heritage month; as well as receiving five nominations to the 2011 Latin Grammys in the following categories: "Album of the Year;" "Best Pop Vocal Album by a Male Artist;" "Record of the Year" for Tan Solo Tú, featuring Alejandra Guzmán; "Best Music Video, Short Version" for Tan Solo Tú; "Best Music Video, Long Version" for the En Primera Fila DVD.
Sony Music congratulates Franco De Vita on his success and on the release of this new single!
The video for Si quieres decir adiós is also available and can be streamed here.
Stay tuned to the latest from Franco de Vita on: www.francodevita.com
One Response to "FRANCO DE VITA LANZA NUEVO SENCILLO A DÚO CON DEBI NOVA / FRANCO DE VITA WILL RELEASE DUET WITH DEBI NOVA AS NEW S INGLE"
Hello would you mind letting me know which webhost you're using? I've loaded
your blog in 3 different internet browsers and I must say this blog loads a lot faster then most.
Can you recommend a good web hosting provider at a honest price?
Many thanks, I appreciate it!
See this: whinnied.waw.pl, http://whirl.waw.pl