¡REIK ADELANTA EL LANZAMIENTO DE SU DISCO EN EXCLUSIVA PARA iTUNES! / REIK'S NEW ALBUM ON iTUNES COUNTDOWN AVAILAB LE NOW!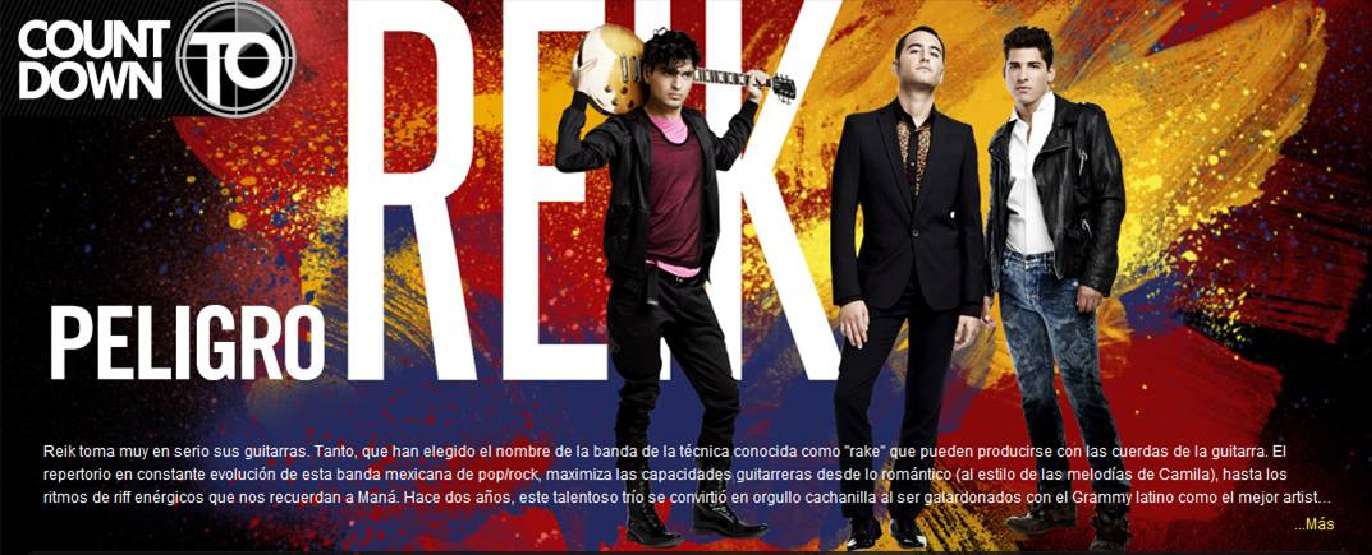 *English version below.
COUNTDOWN DE iTunes
Adelantando el lanzamiento de "Peligro" su nuevo álbum y en exclusiva para iTunes
REIK PRESENTA LA CANCIÓN "DÉJATE LLEVAR",
tema incluido en este disco que saldrá a la venta el 5 de julio.
Bajo la producción de Kiko Cibrián y Ettore Grenci, Reik nos muestra un tema con tintes electrónicos que de igual manera respeta la esencia original del grupo, dándole importancia a las guitarras y al privilegiado estilo de su vocalista, Jesús Navarro.
"Peligro" es el cuarto disco de estudio de este grupo y estará en tiendas en Latinoamérica y Estados Unidos a partir del próximo 5 de julio. Mientras tanto, también por iTunes se conocerán dos temas más, uno nuevo cada semana, mediante la promoción especial titulada "Countdown To de iTunes"
(7,14 y 21 de Junio).
Only on iTunes you can get a sneak peak of REIK's new album "Peligro." Listen to "Dejate Llevar" one of the 14 tracks included in the new album out July 5th.
In this album produced by critically acclaimed producers Kiko Cibrian and Ettore Grenci, REIK present us with a song full of dance beats and a cutting edge electronic sound combined with Jesus, Julio and Bibi's individual musicianship on guitars and keyboards.
"Peligro" is the band's fourth studio album and will hit stores simultaneously in Latin America, the U.S and Puerto Rico on July 5th. Meanwhile, fans will have the opportunity to listen to more songs from the album before street day exclusively on iTunes during the "Countdown To de iTunes" promotion, which will be online June 7, 14 and 21.
Official websites: