NATALIA JIMENEZ ESTRENA VIDEO DE "POR SER TU MUJER" / NATALIA JIMENEZ PREMIERES "POR SER TU MUJER" MUSIC VIDEO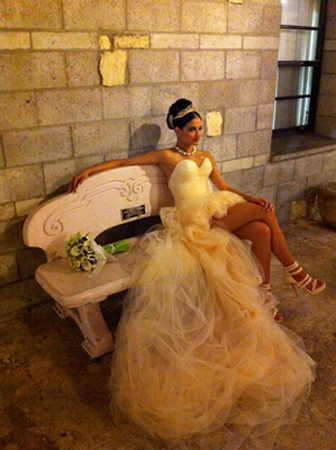 (English below)
NATALIA JIMENEZ ESTRENA VIDEO DE "POR SER TU MUJER"
Miami, FL (7 de junio de 2011) – La cantante española Natalia Jiménez celebra el estreno del video musical Por Ser Tu Mujer. El tema, escrito por la cantautora, es el primer sencillo de su anticipado álbum homónimo como solista, que sale a la venta el próximo 21 de junio bajo el sello disquero Sony Music Latin.
El video fue grabado en el monasterio español de Miami el pasado 4 de mayo bajo la dirección de Carlos Pérez y la casa productora Elastic People. El concepto del video fue creación de la talentosa artista junto al director del mismo. El video muestra a Natalia representando a la novia convencional vestida de blanco y la novia que nunca llega al altar. En la producción participaron más de 30 extras.
"Estoy muy contenta con el video! Pude diseñar el vestuario del mismo junto con mi equipo de estilistas y estoy muy satisfecha con el gran trabajo que hicimos! Me encanta la historia y la pasión que hay en el video", comentó Natalia alegremente.
En referencia a la mancuerna de trabajo con el director del video dijo: "Me sentí muy cómoda trabajando con un director como Carlos, ya que tiene una excelente trayectoria. Sus videos tienen un sello único, me encanta su estilo." Y continuó hablando del concepto del video, "la idea surgió después de analizar la canción y me pareció muy atrevido al principio vestirme de novia, pero quise retratar a todas las mujeres que pasan por un momento así en sus vidas", concluyó la artista.
El video se estrenará en exclusiva vía Vevo, Ritmoson Latino, y Primer Impacto y debido a su temática, sin duda alguna, dará mucho de qué hablar.
NATALIA JIMENEZ PREMIERES "POR SER TU MUJER" MUSIC VIDEO
Miami, FL (June 7, 2011) – Spanish singer Natalia Jiménez celebrates the premiere of her music video, Por Ser Tu Mujer. The track, written by the singer-songwriter, is the first single from her anticipated self-titled debut as a solo artist, which will be released this coming June 21st by Sony Music Latin.
The video was filmed at the Spanish Monastery in Miami, this past May 4th and directed by Carlos Pérez, from the Elastic People production house. The video concept was created by the talented artist in collaboration with the director, to show Natalia representing a conventional bride and a bride that never makes it to the altar. More than 30 extras participated in this production.
"I am very happy with the video! I was able to design the wardrobe for it, along with my team of stylists and I am very satisfied with the work we've done! I love the story and the passion in the video," Natalia commented with joy.
In regards to her work with the video director she said: "I felt very comfortable working with a director like Carlos, since he has such an excellent trajectory. His videos have a unique signature look, I love his style." She went on to talk about the concept for the video, "the idea came about after analyzing the song; I thought it would be very daring to dress as a bride, but I wanted to photograph all the women that experience that moment in their lives," concluded the artist.
The video will premiere exclusively on Vevo, Ritmoson Latino and Primer Impacto and is bound to give much to talk about due to its subject matter.