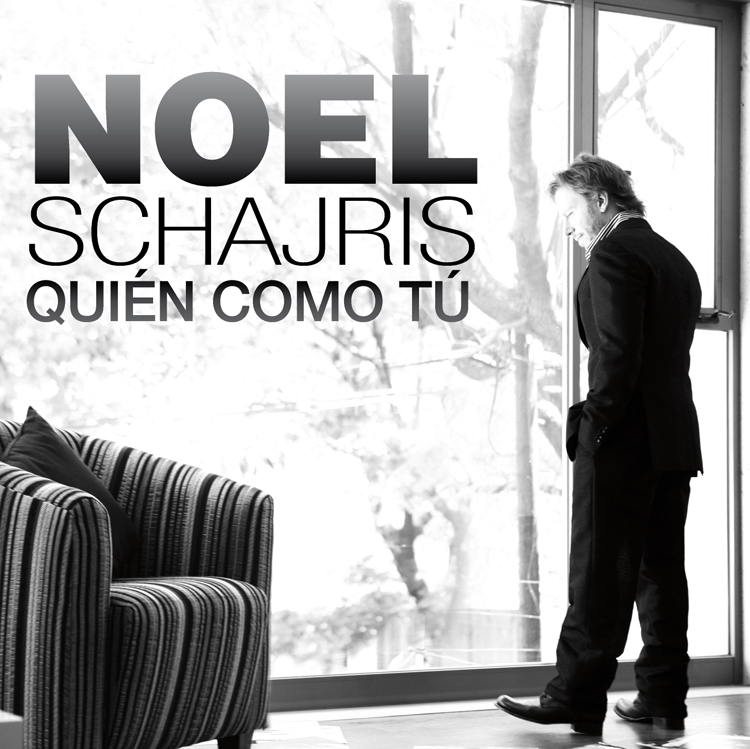 ¡NO SE PIERDAN EL NUEVO VIDEO DE NOEL SCHAJRIS!
EL VIDEO ES DE UNA NUEVA VERSIÓN DEL
CLÁSICO DE ANA GABRIEL 'QUIÉN COMO TÚ'
EL TEMA FORMA PARTE DEL PRÓXIMO
ÁLBUM DE NOEL, "GRANDES CANCIONES"
MIAMI, FL (26 de mayo, 2011) – Una nueva versión del clásico de Ana Gabriel Quién Como Tú es el primer corte de Grandes Canciones, nuevo disco como solista de Noel Schajris. Y ahora, ¡ese sencillo tiene un video que lo acompaña!
Dirigido por Silvia Tort, quien anteriormente realizó los videos de Noel para La única en mi vida y para la versión salsa de Momentos, a dúo con Victor Manuelle, entre otros, este nuevo video, que pronto será distribuido, se desarrolla en un salón de la capital mexicana, con la envidia como hilo central de la trama.
Explica Noel: "Viene una guitarrista, muy guapa por cierto, a audicionar para ver si es un miembro de la banda. Llega con su novio, quien es medio arrogante; yo le envidio, básicamente la canción se la canto al tipo éste. Le envidio a la mujer en todo el video, mientras yo fantaseo con ella".
La nueva versión que interpreta Noel de Quién Como Tú (1989) es uno de varios clásicos del pasado, como Me Va a Extrañar, La Incondicional, Bachata Rosa, A Medio Vivir, entre otros, a los que el ex miembro de Sin Bandera agregó su propia propuesta y estilo en Grandes Canciones.
"Un disco de versiones para mí es cuando propones algo nuevo y creo que queda claro en canciones como 'Quién Como Tú'. Traté de ser original y traté de proponer algo nuevo a la canción, no simplemente cantar la canción de otros", expresa Noel.
Grandes Canciones… para un gran artista.
DON'T MISS NOEL SCHAJRIS' NEW VIDEO!
THE VIDEO IS A NEW VERSION OF THE ANA GABRIEL
CLASSIC 'QUIÉN COMO TÚ'
THE SONG IS PART OF NOEL SCHAJRIS' UPCOMING
ALBUM "GRANDES CANCIONES"
MIAMI, FL (May 26, 2011) – A new version of Mexican singer and composer Ana Gabriel's classic Quién Como Tú is the first single from Grandes Canciones, the new solo album by Noel Schajris. And now, the single has a video to go with it!
Under the direction of Silvia Tort, who was responsible for other Noel Schajris' hit videos, such as La Única en Mi Vida, and the salsa version of Momentos, a duet with Victor Manuelle, this soon-to-be-released new video was filmed in Mexico City, with envy as the main theme of the story.
Explains Noel: "There's a guitar player, very pretty, by the way, who comes to audition for a band. She arrives with her boyfriend, who is a bit arrogant. I envy him, and basically, the song is about how I want what this guy has. Throughout the video, I envy the fact that he has her, and so I fantasize about her."
The new version that Noel performs of Quién Como Tú (1989) is one of several Spanish-language music classics, such as Me Va a Extrañar, La Incondicional, Bachata Rosa, A Medio Vivir, to name a few, to which the former member of the group Sin Bandera added his own style and sound in Grandes Canciones.
"An album of covers for me is when you propose something new, and I think that in songs such as 'Quién Como Tú', I tried to be original and add something, not just sing what others have sung already," says Noel.
Grandes Canciones… great songs, for a great artist.