SHAKIRA Y BUFFETT, UNA VEZ MAS JUNTOS POR LA EDUCACION EN COLOMBIA / SHAKIRA & BUFFETT, UNITED AGAIN FOR EDUCATION IN COLOMBIA!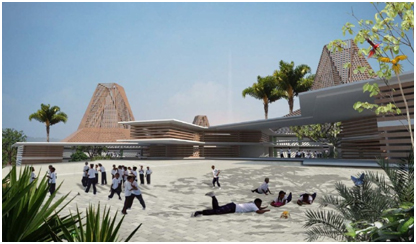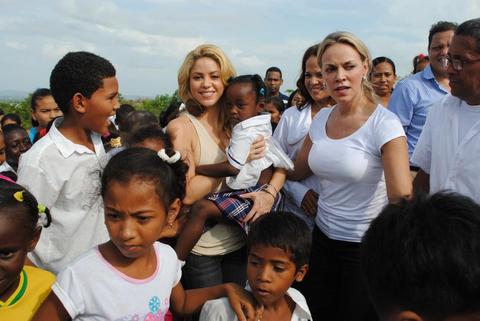 SHAKIRA Y BUFFETT, UNA VEZ MAS JUNTOS POR LA EDUCACION EN COLOMBIA.
LA ALCALDIA DE CARTAGENA Y EL ICBF SE VINCULARON DECIDIDAMENTE AL PROYECTO.
1,500 niños, niñas y jóvenes estudiarán en el Colegio Lomas de Peyé en sus 7,500 metros de construcción.
58,000 habitantes de Lomas del Peyé podrán beneficiarse de Programas educativos.
El diseño de arquitectura ecológica de este proyecto hace que sea innovador y autosostenible.
(English Below)
Cartagena, Colombia – 12 de Abril, 2011 – Ayer lunes 11 de abril de 2.011, la cantante barranquillera Shakira visitó una vez más Cartagena, esta vez en compañía del filántropo Howard Buffett, la alcaldesa de la ciudad Judith Pinedo y la presidenta de la Fundaciónón Pies Descalzos Maria Emma Mejía, Patricia Sierra y Antonio Celia Presidente de su Junta Directiva para poner el primer ladrillo de lo que será su nuevo megacolegio en una zona de alta vulnerabilidad y desplazamiento en esta ciudad del Caribe Colombiano.
El proyecto se convertirá en un hito urbanístico, motor de cambio para las 1.500 niñas y niños beneficiados directamente y 58.000 mil habitantes de la comunidad del Cerro de Popa.
El Colegio y Centro Comunitario, diseñado por el reconocido arquitecto Giancarlo Mazzanti , se construirá en un área de 7.500 metros donde los estudiantes y sus padres contarán con: aulas, laboratorios, salones de tecnología y de audiovisuales; canchas múltiples, zona administrativa y de docentes, así como de amplios espacios para la recreación, el arte y el deporte de acuerdo con la filosofía educativa de Pies Descalzos.
Shakira expresó, "Yo sé que el mundo, poco a poco comprenderá que donde haya un niño que tiene hambre y no puede asistir a la escuela…ese niño es un motivo de preocupación y responsabilidad de todos nosotros. Estoy segura que la gente se volverá cada vez más consciente de ello, porque el mundo se ha vuelto un pueblo pequeño, y nos toca a todos preocuparnos por las dificultades y desafíos que se les presentan a otros."
Este proyecto pretende iniciar la transformación de su entorno para convertirse en un hito urbano, símbolo de la ciudad que genere apropiación y orgullo en sus habitantes.
Con el apoyo privado y el de nuestros socios se fundamenta las bases de nuestro sexto Colegio en Colombia, el recientemente iniciado en Haiti y el futuro en Sudáfrica para desarrollar educación pública de calidad con nutrición y generación de ingresos, pilares del modelo educativo de nuestra Fundadora.
Con el inicio de esta obra, Shakira en compañía de los grandes aliados, socios y benefactores, continúa apoyando a niños y niñas en el mundo para que logren una oportunidad de educación con dignidad, sustentado en un modelo innovador de centros comunitarios que benefician familias enteras pertenecientes a zonas vulnerables.
Mayores Informes:
Rodrigo Beltran
Móvil .+ 3102969507
Paula Martínez
Móvil. + 3174307479
www.fundacionpiesdescalzos.com
SHAKIRA & BUFFETT, UNITED AGAIN FOR EDUCATION IN COLOMBIA.
THE MUNICIPALITY OF CARTAGENA AND THE COLOMBIAN INSTITUTE FOR FAMILIAL WELL BEING HAVE ALSO DIRECTLY LINKED THEMSELVES WITH THE PROJECT.
· 1.500 boys, girls, and young people will study in the Lomas de Peyé school on grounds occupying 7,500 meters squared.
· 58,000 residents of Lomas del Peyé will benefit from educational programs.
· The ecological architectural design of this project makes it both innovative and self-sustainable.
Tuesday, April 12, 2011: The Barranquilla-born singer Shakira visited Cartagena once again, this time accompanied by the philanthropist Howard Buffett, the mayor of the city Judith Pinedo and from the Pies Descalzos Foundation Maria Emma Mejía, Patricia Sierra and Antonio Celia, President of its Board of Directors to lay the first brick of what will be its new mammoth school in an area of high vulnerability and displacement in this coastal Colombian city.
The project is set to become an urban milestone, a motor of change for 1,500 boys and girls who will benefit directly and 58,000 residents of the Cerro de Popa community.
The school and community center, designed by renowned architect Giancarlo Mazzanti, will be built on a site spanning 7,500 meters squared where students and parents will enjoy classrooms, laboratories, technology and audiovisual centers; multiple sporting fields, teachers and administration, as well as ample space for recreation, art and sports in accordance with the educational philosophy of Pies Descalzos.
Shakire expressed: "I know that the world, little by little will understand that wherever there is a kid who is hungry and can't attend school…that kid should be a concern to all of us and our responsibility. I'm sure that this awareness will grow in each one of us, because the world has become a small neighborhood, and we should all be concerned about the issues that others have to face."
This project attempts to initiate the transformation of its environs to become an urban milestone, a symbol of the city that will generate pride and a sense of ownership in its residents.
Supported by the private sector and various partners the foundation has been laid for the Foundation's sixth school in Colombia, the recently begun school in Haiti, and the future in South Africa to develop quality public education with nutrition and generation of funds, which are the pillars of the educational model of its founder.
With the commencement of this project, Shakira, in the company of great allies, partners and benefactors, continues to support children around the world in obtaining the opportunity to enjoy a dignified education, sustained by an innovative model of community centers that also benefit entire families within zones vulnerable to conflict.
For Further Inquiries:
Rodrigo Beltran
Mobile +573102969507
Paula Martínez
Mobile. +573174307479