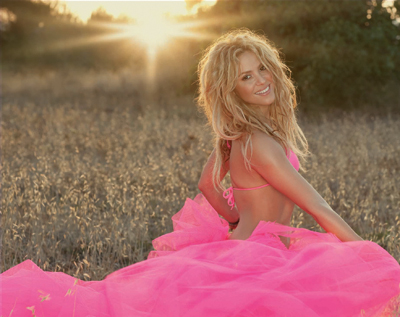 SHAKIRA ARRASA EN LOS PREMIOS BILLBOARD LATINOS 2011
La super estrella internacional fue la artista femenina más galardonada de la noche con un total de seis trofeos.
Miami, Fl – 29 de Abril, 2011 – En medio de su aclamada gira mundial Sale el Sol, Shakira se convirtió en la artista femenina más galardonada de los Billboard Latin Music Awards que se celebraron en la noche de ayer en la ciudad de Miami.
Con 13 nominaciones este año, Shakira ganó seis de ellas en las categorías: Artista del Año Femenino; Latin Pop Airplay Artista del año, Solista; Top Latin Albums Artista del año Femenino y Latin Digital Album, Disco del Año por las ventas de su álbum Sale el Sol. Su mega hit del 2010 "Waka Waka (Esto es África)" ganó comoDescarga Digital Latina del Añoy la labor social de Shakira fue reconocida con el premio Social 50, Artista Latino del Año.
La artista, quien no pudo asistir a la ceremonia ya que se encuentra de gira por Europa y el Medio Oriente, comentó, "Quiero agradecer a los Billboard por los premios que he recibido anoche. Desde Abu Dabi donde me encuentro de gira recibí con muchísima alegría las noticias que llegaron de Miami. Muchas gracias también a toda la gente que apoya mi música, los quiero mucho!"
Recientemente, Shakira lanzó "Rabiosa", el tercer sencillo de su álbum Sale el Sol, el cual cuenta con la participación del rapero Pitbull en su versión en inglés, y con el dominicano El Cata para la versión en español.
SHAKIRA WINS BIG AT THE 2011 BILLBOARD LATIN MUSIC AWARDS
The international superstar was the most awarded female artist of the night, taking home a total of six trophies.
Miami, Fl – April 29, 2011 – In the midst of her successful world tour, Sale el Sol, Shakira became the most awarded female artist at the Billboard Latin Music Awards, which took place yesterday night in Miami.
With 13 nominations this year, Shakira earned six awards in the following categories: Hot Latin Songs Artist of the Year Female, Latin Pop Airplay Artist of the Year, Top Latin Albums Artist of the Year, Female, and Latin Digital Album of the year for sales of her album Sale el Sol. Her 2010 mega hit "Waka Waka (This Time for Africa)" earned an award as Latin Digital Download of the Year, and Shakira's philanthropic work was recognized with the Social 50 Latin Artist of the Year award.
The artist, who could not attend the ceremony, due to her current tour in Europe and the Middle East, said "I would like to thank Billboard for the awards that I've won. From Abu Dabi, where I am currently on tour I received with great joy the news that came from Miami yesterday. Thanks to everyone that listens to my music, love you all!"
Shakira recently released "Rabiosa", third single from her hit album Sale el Sol, which features rap sensation Pitbull in the English version, and Dominican artist El Cata in the Spanish version.