MARC ANTHONY'S NEW MUSIC VIDEO "A QUIEN QUIERO MENTIRLE" PREMIERES TOMORROW / MARC ANTHONY ESTRENA MAÑANA VIDEO DE SU NUEVO SENCILLO "A QUIEN QUIERO MENTIRLE"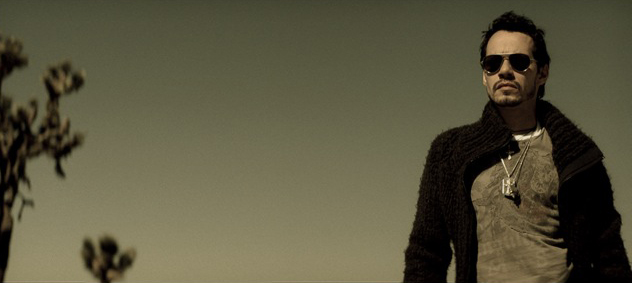 MARC ANTHONY'S NEW MUSIC VIDEO "A QUIEN QUIERO MENTIRLE" PREMIERES TOMORROW
New York, March 29, 2011: The music video premiere of Marc Anthony's new hit single "A Quien Quiero Mentirle" is scheduled to air on television and digital formats this Wednesday, March 30th.
The ballad version recorded for the five-time Grammy winner's new album, "Iconos", has become a fan favorite and has been playing on international radio stations for the last few weeks. "A Quien Quiero Mentirle" is one of two original songs in Marc Anthony's new album, written by the music superstar and composer Julio Reyes.
Shot in 35mm, the music video was directed by Carlos Pérez, and produced by Elastic People. The film shoot took place in one of California's most picturesque deserts in Palmdale, just outside of Los Angeles. The wardrobe used in Marc Anthony's new video was provided by Gucci.
The music video premiere will take place on Wednesday, March 30th, on NBC's Access Hollywood on their 7:30 pm show and Univision's Primer Impacto at 5:15pm EST. Fans can also catch the video on Vevo, immediately following the television broadcast. Vevo is the number one music video website in the world, reaching 1.7 billion fans, including over 600 million in the U.S. and Canada each month.
"Iconos" reached the number one sales spot for three weeks beating records in Spain, Mexico and other key Latin American markets. After its release the album remains a favorite among fans and radio stations all over the world. Most recently, the album earned Marc Anthony 6 nominations to this year's Billboard Latin Music Awards.
Marc Anthony will return to the small screen this June in a starring role on TNT's "Hawthorne", opposite Jada Pinkett-Smith. He is also preparing to launch a new clothing, accessories, and home products line for Kohl's Department Stores.
###
MARC ANTHONY ESTRENA MAÑANA VIDEO DE SU NUEVO SENCILLO
"A QUIEN QUIERO MENTIRLE"
Nueva York, March 29, 2011: El lanzamiento del video musical correspondiente al nuevo sencillo de Marc Anthony del tema "A Quien Quiero Mentirle" ya tiene pautado su estreno en televisión y en varios canales digitales.
El éxito grabado en versión balada para la más reciente producción del ganador de 5 Grammys titulada "Iconos" se escucha en las ondas radiales a nivel internacional desde hace ya algunas semanas y ahora llega el video musical que acompaña a dicho corte musical.
"A Quien Quiero Mentirle" es uno de los dos temas originales de su nueva propuesta musical y es de la autoría de Marc Anthony y del compositor Julio Reyes.
Uno de los desiertos más pintorescos de Palmdale, a las afueras de Los Angeles, California, fue el escenario elegido para la filmación. El video, grabado en formato de 35 mm, fue dirigido por Carlos Pérez y la producción estuvo a cargo de Elastic People. El vestuario del artista fue exclusivo de la casa Gucci.
El estreno de video tendrá lugar mañana miércoles 30 de marzo en el programa Access Hollywood de la cadena NBC a las 7:30 pm y en el programa Primer Impacto de la Cadena Univision a las 5:15 de la tarde hora del este. Sus fanáticos también tendrán la oportunidad de disfrutar del video via Vevo inmediatamente el video estrene en ambas cadenas de televisión. Vevo es la plataforma # 1 en estos momentos en el web y líder en presentar videos musicales a más de 1.7 billones de fanáticos a nivel mundial con más de 600 millones de visitantes en los Estados Unidos y Canadá mensualmente.
A raiz de su lanzamiento "Iconos" ocupó el primer lugar en ventas por más de tres semanas y batió records en España, México y otros importantes mercados de Latinoamérica. Aún, ocho meses después de su introducción al mercado "Iconos" se mantiene entre los favoritos del público y la radio a nivel internacional.
Muy recientemente dicho proyecto le atrajo 6 nominaciones a los Premio Billboard a la Música Latina.
El cantante y productor también regresa al a pantalla chica este próximo mes de junio en papel estelar en la serie de televisión para TNT "Hawthorne" junto a Jada Pinkett-Smith y se prepara para lanzar su nueva línea de ropa, accesorios y artículos del hogar para la cadena de tiendas Kohl's.
One Response to "MARC ANTHONY'S NEW MUSIC VIDEO "A QUIEN QUIERO MENTIRLE" PREMIERES TOMORROW / MARC ANTHONY ESTRENA MAÑANA VIDEO DE SU NUEVO SENCILLO "A QUIEN QUIERO MENTIRLE""
I couldn't refrain from commenting. Exceptionally well written!