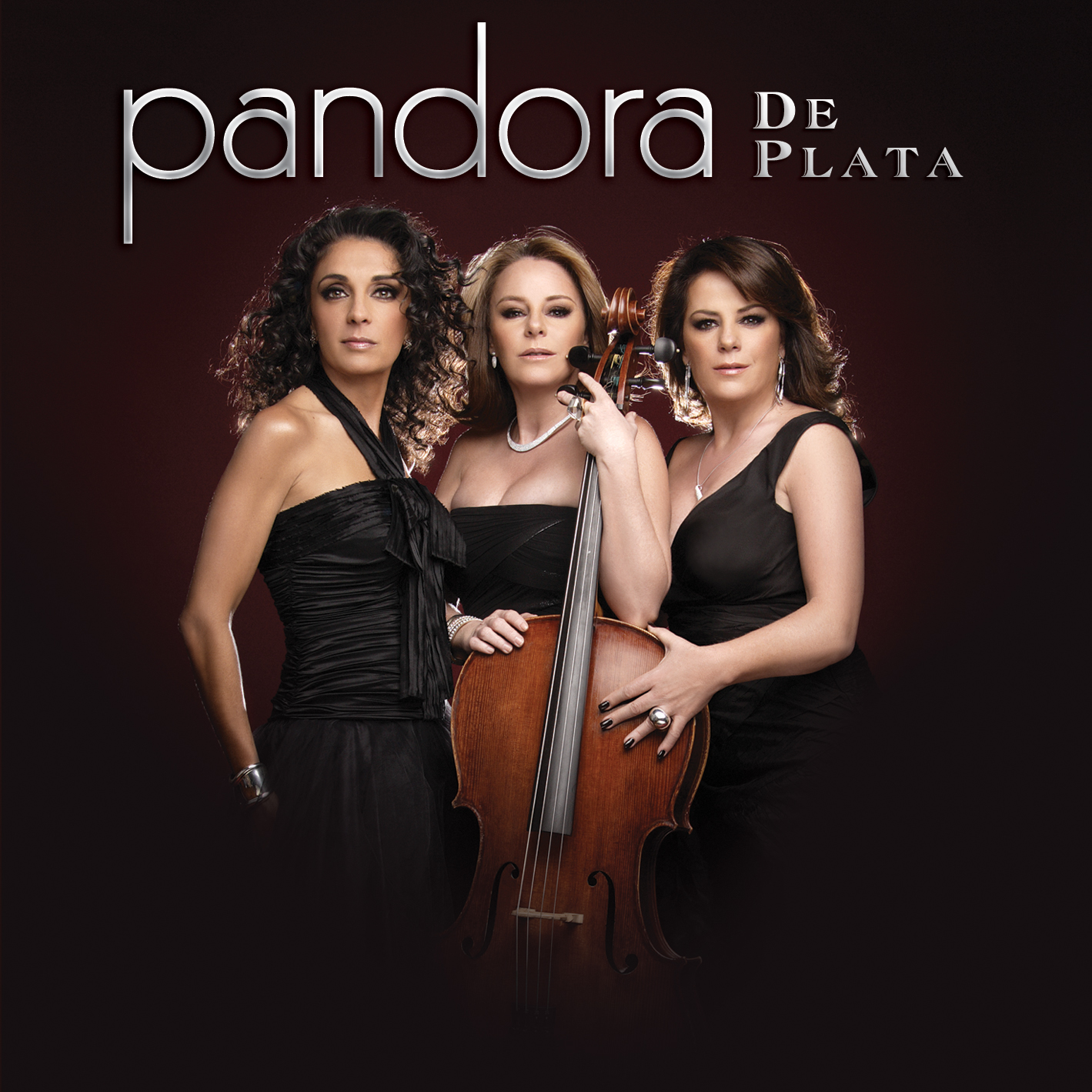 ¡INOLVIDABLES E INCOMPARABLES, LAS INTEGRANTES DE
PANDORA CELEBRAN 25 AÑOS DE CARRERA CON
EL LANZAMIENTO DE SU NUEVO ÁLBUM!
"DE PLATA" YA HA ALCANZADO EL DISCO DE ORO Y PLATINO EN
MEXICO CON VENTAS QUE SUPERAN LAS 100,000 COPIAS
EL NUEVO DISCO, QUE SALE AL MERCADO ESTADOUNIDENSE
HOY 15 DE MARZO, TIENE COMO PRIMER SENCILLO EL TEMA 'OJALÁ'
ENTRE LAS 12 CANCIONES QUE COMPONEN ESTA
PRODUCCIÓN DE MEMO GIL, SE INCLUYEN
4 DUETOS, 3 TEMAS INÉDITOS, Y 4 NUEVAS VERSIONES DE
CLÁSICOS DE PANDORA
PANDORA CONTINUARÁ CON UNA EXITOSA
GIRA DE CONCIERTOS QUE LEVARÁ A
MAYTE, FERNANDA E ISABEL A LOS ESCENARIOS DE
PUERTO RICO, MÉXICO Y COSTA RICA
Miami, FL (15 de marzo, 2011) – Han sido 25 años de historia musical inolvidables. Fernanda, Isabely Mayte, mejor conocidas como Pandora, celebran su cuarto de siglo en el mundo musical con el lanzamiento de un nuevo y exclusivo álbum.
Para festejar esta larga y exitosa carrera, las intérpretes mexicanas lanzan De Plata, disco que sale al mercado estadounidense hoy 15 de marzo. Ojalá, el primer sencillo de esta producción discográfica, fue compuesto por el cantautor peruano Gian Marco.
El álbum, que se lanzó en México a fines del año pasado, ya ha recibido Disco de Oro y Platino en ese país por haber superado las 100.000 copias vendidas. La producción de Memo Gil cuenta con 4 duetos, 3 temas inéditos y 4 nuevas versiones de temas clásicos de Pandora. En los duetos colaboran Kalimba, Noel Schajris, Gian Marco y el grupo Flans.
Los temas son acompañados por una orquesta sinfónica, con toques de pop, que le dan un sonido refrescante y vigorizante a esta última producción del legendario grupo mexicano. Pandora comenzó gira de conciertos en enero, y el 1 estará en Puerto Rico, con fechas posteriores en México y en Costa Rica.
Con De Plata, Pandora brilla como nunca antes.
A continuación, las fechas de la gira de Pandora:
1 de mayo – Puerto Rico (Centro de Bellas Artes)
7 de mayo – Ensenada
12 de mayo – Aguascalientes
13 de mayo – Juriquilla
18 de mayo – Hermosillo
21 de mayo – D.F. (Auditorio Nacional)
27 de Mayo – Zacatecas
9 de Junio – Costa Rica (Palacio de los Deportes)
17 de Junio – Mexicalli
UNFORGETTABLE AND UNPARALLELED, THE MEMBERS OF
PANDORA CELEBRATE THEIR 25TH ANNIVERSARY AS A GROUP WITH
THE RELEASE OF THEIR NEW ALBUM!
WITH SALES THAT EXCEED 100,000 ALBUMS
"DE PLATA" HAS ALREADY REACHED GOLD AND PLATINUM STATUS
THE NEW ALBUM WILL BE RELEASED IN THE U.S. TODAY MARCH 15,
AND THE FIRST SINGLE IS THE SONG 'OJALÁ'
INCLUDED AMONG THE 12 TRACKS FEATURED
IN THIS MEMO GIL PRODUCTION ARE 4 DUETS, 3 NEW SONGS,
AND 4 NEW VERSIONS OF CLASSIC PANDORA HITS
PANDORA CONTINUES A SUCCESSFUL TOUR THAT WILL TAKE
MAYTE, FERNANDA & ISABEL TO STAGES ACROSS
PUERTO RICO, MEXICO AND COSTA RICA
Miami, FL (March 15, 2011) – It's been 25 years of unparalleled musical history. Fernanda, Isabel, and Mayte, better known as Pandora, celebrate their quarter of a century in the music business with the release of their exclusive new album.
To commemorate this long and successful career, the Mexican singers are releasing De Plata, available in the US as of today March 15th. Ojalá, the first single off the new album, was composed by the Peruvian singer/songwriter Gian Marco.
The album, released in Mexico towards the end of last year, has already reached Gold and Platinum status in that country for sales that surpass a 100,000 units. This Memo Gil production features 4 duets, 3 new tracks, and 4 new versions of Pandora classics. The duets feature the collaboration of Kalimba, Noel Schajris, Gian Marco and the group Flans.
The songs are accompanied by a symphonic orchestra, with a touch of pop, to give a refreshing and energizing sound to the latest work by this legendary Mexican group. Pandora began a concert tour in January, and on May 1st, they will be in Puerto Rico, following then with other venues in Mexico and in Costa Rica.
With De Plata, Pandora shines like never before.
What follows is the list of concert dates for Pandora:
May 1 – Puerto Rico (Centro de Bellas Artes)
May 7 – Ensenada
May 12 – Aguascalientes
May 13 – Juriquilla
May 18 – Hermosillo
May 21 – D.F. (Auditorio Nacional)
May 27 – Zacatecas
June 9 – Costa Rica (Palacio de los Deportes)
June 17 – Mexicalli