NOTA LANZA SU SENCILLO "MY GIRL (TE AMO)!"/NOTA RELEASES THEIR SINGLE "MY GIRL (TE AMO)!"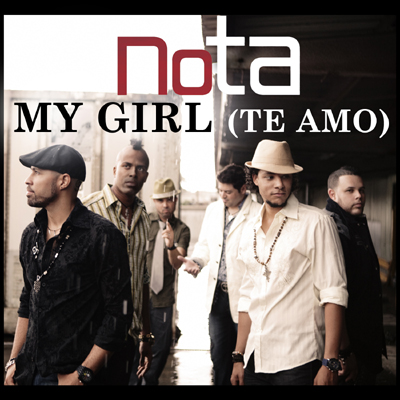 ¡NOTA LANZA SU SENCILLO "MY GIRL (TE AMO)"!
EL GRUPO REVELACIÓN DE LA MÚSICA A CAPPELLA PRESENTA SU VERSIÓN DEL
CLÁSICO DE THE TEMPTATIONS
"MY GIRL (TE AMO)", EN SUS VERSIONES EN INGLES Y ESPAÑOL,
ESTARÁ SONANDO EN LAS RADIOS A PARTIR DE ESTA SEMANA
EL VIDEO DEL NUEVO SENCILLO FUE GRABADO EN PUERTO RICO Y
SE ESTRENARÁ A PRINCIPIOS DE FEBRERO
Miami, FL (12 de enero, 2011) – Nota, el grupo revelación de la música a cappella lanza su sencillo, "My Girl (Te amo)" en sus versiones en español e inglés.
Luego de alcanzar el primer y segundo lugar en las ventas de iTunes con su primer disco, Nota, y con su EP especial de navidad, Nota's A Cappella Christmas, uno de los grupos más reconocidos dentro del género, presenta su propia versión del clásico de The Temptations, "My Girl".
El video de este nuevo sencillo fue filmado en Puerto Rico y saldrá al mercado durante los primeros días de febrero.
Por otra parte, el 17 de enero fanáticos y público en general podrán disfrutar de una entrevista exclusiva en Don Francisco Presenta a través de la cadena Univisión.
Después de los éxitos logrados durante el 2010, Nota celebra el nuevo año con el lanzamiento de la versión a cappella de este clásico de todos los tiempos.
NOTA RELEASES THEIR SINGLE "MY GIRL (TE AMO)!"
THE A CAPPELLA SINGING SENSATION RELEASES THEIR OWN VERSION OF
THE TEMPTATIONS' CLASSIC
THE SPANISH AND ENGLISH VERSIONS OF "MY GIRL (TE AMO)"
WILL HIT RADIO THIS WEEK
THE "MY GIRL (TE AMO)" VIDEO WAS SHOT IN PUERTO RICO AND
WILL BE RELEASED IN FEBRUARY
Miami, FL (January 12, 2011) – A cappella singing sensation Nota, releases both Spanish and English versions of their single, "My Girl (Te Amo)."
After reaching the first and second sales spot on iTunes with their self titled debut album, Nota, and their Christmas EP, Nota's A Cappella Christmas, one of the most acclaimed a cappella groups releases their own version of the Temptation's classic "My Girl."
The "My Girl (Te Amo)" video was shot in Puerto Rico and will be released in early February.
Also, on January 17th an exclusive interview with Nota, where the audience and fans will learn about the story behind and the success of these young and talented artists, will be aired on Don Francisco Presenta on the Univision Network.
After all their success in 2010, Nota celebrates the beginning of this new year with the release of their own bilingual version of this all time classic.