Calle 13 Regressa El 22 De Noviembre Con "Entren Los Que Quieran"/Calle 13 Returns With "Entren Los Que Quieran" (Everybody Is Welcome) On November 22
Ganadores De Dos Premios Grammy Y De Diez Latin Grammy
CALLE 13
Regresa El 22 De Noviembre Con El Lanzamiento De Su Muy Anticipado Cuarto Álbum
"Entren Los Que Quieran"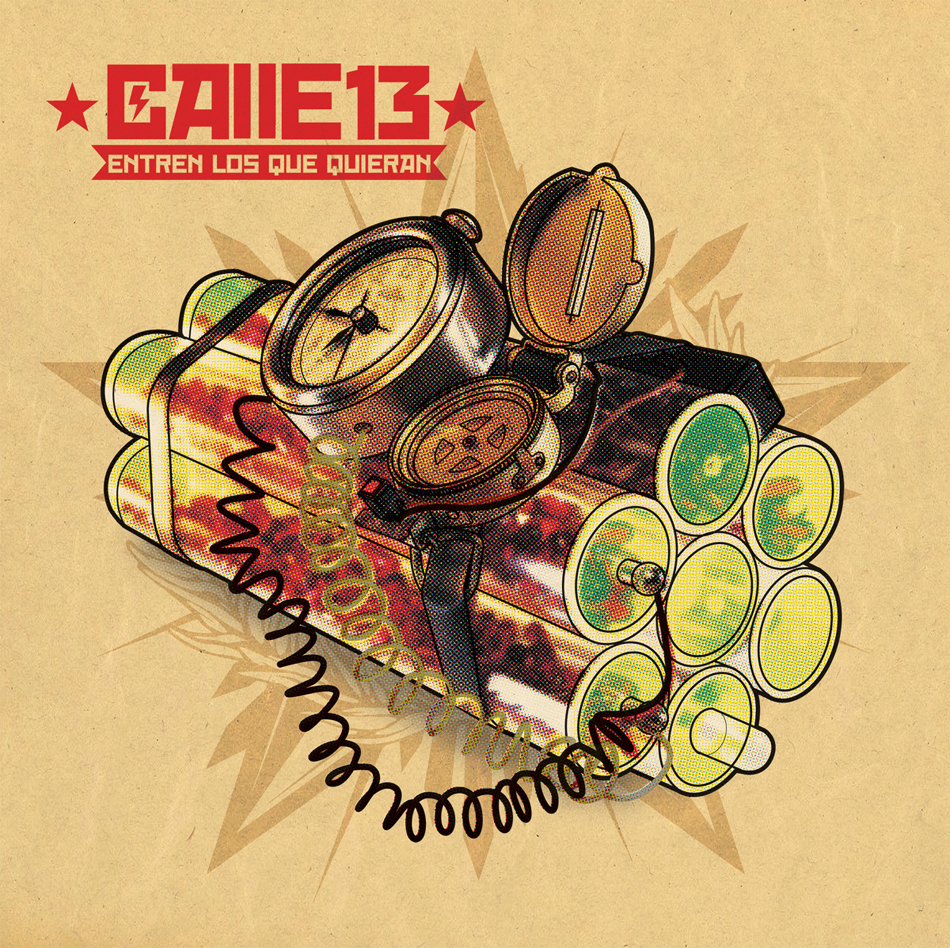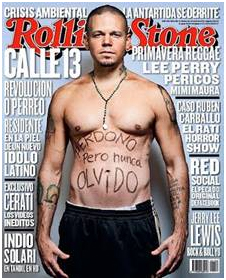 "Calle 13 es uno de las actuaciones de hip hop más contundentes, en cualquier idioma" – Slate
"Visionario… Pocos actos urbanos, en cualquier lengua, combinan tanta ambición con tanta diversión". – The New York Times
"CUATRO ESTRELLAS – creadores de éxitos con gustos que recorren todo el mundo, desenfrenado sentido del humor y buena onda imparable" – Rolling Stone
"un estilo experimental de música urbana combativa, distinto a todo lo que hay allá afuera… simplemente magnífico" – ALL MUSIC
"Provocadores, escandalosamente irreverentes… uno de los grupos musicalmente más aventureros en el hip hop latino, quizás en todo el hip hop, sin duda… Nada tan crudo y escandaloso se ha escuchado jamás en la música latina" – Los Angeles Times
"nada está a salvo de su música hiper irreverente – ni la política, ni el sexo, ni sus colegas artistas… extraño, seductor, provocativo e hilarante, todo a la misma vez" – Associated Press
"Calle 13 ha perfeccionado el arte del comentario social vocal y volátil a un grado nunca antes visto en la música latina, y como resultado, el dúo se ha ganado elogios de la crítica y múltiples premios Latin Grammy… su nuevo Álbum, "Entren los Que Quieran", mezcla la política con la introspección" – Billboard

Calle 13 – "Entren Los Que Quieran"
Fecha de lanzamiento – 22 de noviembre, 2010
– – – – – – – – – – – – – – – – – – –
Desde que revolucionaron la música urbana latina hace cinco años con su disco debut, que marcó un hito en la historia del género, los integrantes de Calle 13 siempre le han hablado de manera firme y clara a sus fanáticos.
Ya fuera el reto de convertirse en luchadores callejeros, llevar a cabo un impactante recorrido por el tango del pecado, o llamar a los oprimidos a levantarse y exigir sus derechos, el juego siempre ha sido el mismo: libera tus caderas y la mente seguirá.
Y aunque a veces se malentendió el mensaje, el nuevo álbum de Calle 13, "Entren Los Que Quieran", deja en claro que los maestros de este acto, René Pérez Joglar (Residente) y Eduardo José Cabra Martínez (Visitante), creen en la inclusión de todos.
"Calle 13 siempre ha creído en incluir a toda la gente, no en excluir", insiste Residente. "Por eso es que siempre mencionamos a todos, al católico y al no católico, al homosexual, al heterosexual, todo el mundo está incluido en Calle 13. Este álbum sigue la misma lógica de 'Los De Atrás Vienen Conmigo'. Es gratis para quien lo quiera escuchar".
Ganadores de 10 premios Latin Grammy y dos Grammy, dos Billboard Latin y un MTV Latin America, el dúo puertorriqueño Calle 13 ha tenido un éxito descomunal a pesar de ser una banda que se atreve a ofender a aquellos en el poder. Su popularidad estriba en el hecho de que, aún cuando sus mensajes pueden ser controversiales, sus fanáticos creen en ellos.
Y claro, los mensajes fuertes en "Entren Los Que Quieran" no podían faltar. El primer sencillo, "Calma Pueblo", que cuenta con la participación de la furiosa guitarra de Omar Rodríguez López, de Mars Volta, es un torrente de quejas apasionadas sobre la ira, la desilusión y el deseo de libertad personal. Su video, que ya ha creado revuelo en los medios, y que cuenta con una caravana de actores desnudos corriendo por entre los rascacielos del distrito financiero de San Juan, bien pudiera ser su declaración más desafiante.
"Era un llamado a despertarnos", afirma Residente. "Es como decir, deja todo lo que estás haciendo. Sé que hay momentos en los que uno no puede hacer eso, pero por lo menos, tener el espíritu de poder dejarlo todo de repente y darle oportunidad a otras cosas, es importante".
"Latinoamérica", que incluye como artistas invitadas a las diosas de la música latina Maria Rita (Brasil), Susana Baca (Perú) y Totó La Momposina (Colombia), es el llamado más lírico que ha hecho Calle 13 hasta el momento en pos de la unidad cultural. El sencillo más reciente, "Vamo' a Portarnos Mal", es un reclamo metafórico a que la juventud latina tome las riendas con la esperanza de que el mal comportamiento pueda virar de cabeza a un mundo decepcionante.
La ecléctica mezcla de ritmos latinoamericanos, de los cuales Visitante ha sido pionero durante los pasados cinco años, también está presente en "Entre Los Que Quieran".
"Latinoamérica" cuenta con un ritmo andino sincopado similar al que utilizaron en "Llega a mi Guarida", del álbum "Residente o Visitante", pero con un sonido que recuerda más a "la música folclórica argentina", dice Residente. El legendario productor musical latino Gustavo Santaolalla también figura en este corte, tocando instrumentos folclóricos. "Vamo' a Portarnos Mal" es un merengue con un poquito del sabor del viejo ska que pone a todo el mundo a brincar desde Jamaica hasta Londres y Ciudad de México.
De cierta forma, lo que más emociona a Residente de "Entren Los Que Quieran" es lo que él considera la "madurez" del álbum. "Puedes sentir que hay una banda aquí, detrás de Calle 13", dice Residente. "Puedes sentir más las influencias musicales, el viaje". Salir de gira continuamente con un grupo de 11 músicos que apoyan a Residente y a Visitante (al igual que a su hermana, PG-13), ha creado un nivel de familiaridad que se traduce en una fuerte base creativa.
"No tenemos miedo de incluir instrumentación en vivo en el álbum", dice Residente. "Una vez que trabajas con músicos en vivo, es difícil hacerlo con cosas electrónicas enlatadas – se siente vacío".
Visitante, el hermano de Residente que compartió la existencia semi-urbana y semi-suburbana que da forma a la visión de Calle 13, se ha convertido calladamente en uno de los compositores y creadores de ritmos más importantes de la música latina hoy día. Estudió en el Conservatorio de Música y en la Escuela Manolo Acosta, donde aprendió a tocar el saxofón y la flauta. Es guitarrista autodidacta, pero ha utilizado la nueva tecnología digital para ejercer una paleta creativa que le permite fusionar rock y hip hop con la vasta gama de géneros tradicionales que la banda ha absorbido a lo largo de sus viajes por Latinoamérica.
Afortunadamente, según Residente, la banda ya no tiene que lidiar con una de las controversias que marcó los inicios de su carrera – ¿eran una banda de reggaetón o no? Ya que, aunque siempre se han incluido cortes que reflejan la pasión del grupo por ese ritmo de baile tan sensual que estallaba en escena cuando ellos aparecieron por primera vez en 2005, nunca se trataron sólo de eso.
El crecimiento lírico y musical de Residente y Visitante ha sido prueba de su trascendencia más allá del mundo del reggaetón. Además, ya han hecho las paces con las mayores figuras de ese género.
"Soy urbano, más que nada", dice Residente. "Quería que se me respetara un poco dentro de la música urbana, pero ahora no es necesario. Me siguen en Twitter y me hablan y está todo bien. Hay problemas mucho más serios por los cuales pelearse".
Páginas web del artista:
www.facebook.com/calle13oficial
www.youtube.com/calle13official
Páginas web de la disquera:
Double GRAMMY & Ten-Time LATIN GRAMMY Winners

CALLE 13

Return On November 22nd With The Release Of Their Highly-Anticipated Fourth Album

"Entren Los Que Quieran"

(Everybody is Welcome)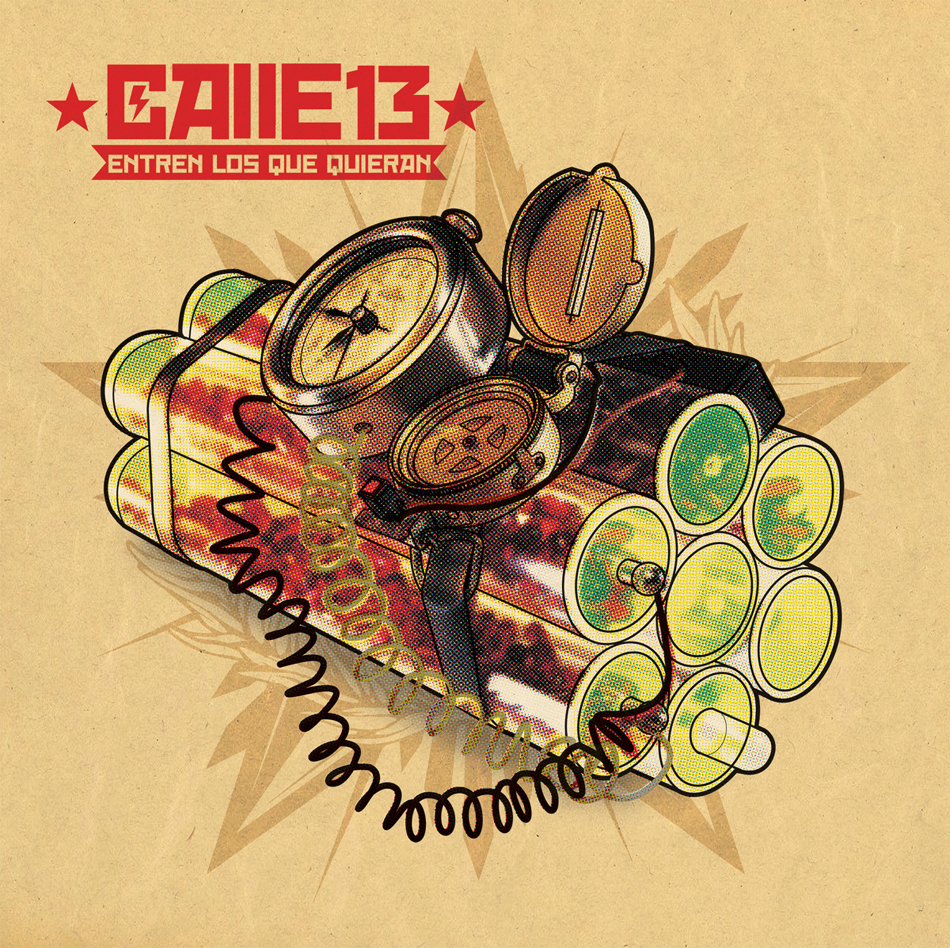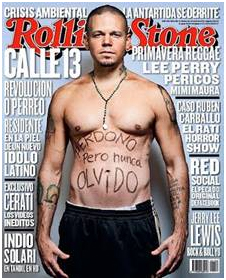 "Calle 13 is one of the sharpest hip-hop acts in any language" – Slate
"Visionary… Few urban acts, in any language, match so much ambition to so much fun." – The New York Times
"FOUR STARS – hitmakers with globe-trotting tastes, a riotous sense of humor & unstoppable groove" – Rolling Stone
"a fearlessly experimental style of urban music unlike anything else out there… simply magnificent" – ALL MUSIC
"Provocative, outrageously irreverent… one of the most musically adventurous groups in Latin hip-hop maybe in hip-hop, period… Nothing so raw & outrageous has ever been heard in Latin music" – Los Angeles Times
"nothing is safe from their hyper, irreverent music — not politics, not sex and not their fellow artists… weird, seductive, thought-provoking and hilarious all at once" – Associated Press
"Calle 13 has perfected the art of vocal and voluble social commentary to a degree not found before in Latin music, and the duo has earned critical praise and multiple Latin Grammy Awards as a result…their new album, "Entren los Que Quieran", mixes politics with introspection" – Billboard

Calle 13 – "Entren Los Que Quieran"
(Everybody is Welcome) – Release Date 11.22.10
– – – – – – – – – – – – – – – – – – –
Since they revolutionized Urban Latino music five years ago with their breakthrough debut, Calle 13 has always spoken to their fans loudly and clearly.
Whether it was a dare to become a street-fighter, a shocking spin through a tango of sin, or call to the downtrodden to stand up for their rights, the game was the same. Liberate your hips and your mind will follow.
And although that message was sometimes misunderstood, the new Calle 13 album, "Entren Los Que Quieran," (Everyone Is Welcome) makes clear that ringleaders René Pérez Joglar (Residente) and Eduardo José Cabra Martínez (Visitante) believe in a big-tent party.
"Calle 13 has always included people, it hasn't excluded," insists Residente. "That's why we always mentioned everything, Catholic or non-Catholic, homosexual, heterosexuals, everyone is included in Calle 13. This album follows the same logic as 'Los Detrás Vienen Conmigo. It's free for anyone to listen to it."
The winners of two Grammy Awards, 10 Latin Grammy awards, two Billboard Latin Music awards and one from MTV Latin America, the Puerto Rican duo Calle 13 has had enormous success for a band that has sometimes been unafraid to offend the powers that be. Their popularity lies in the fact that even though their messages can be controversial, their fans believe in them.
To be sure, there are strong messages on "Entren Los Que Quieran." The first single, "Calma Pueblo," which features the raging guitar of Mars Volta's Omar Rodríguez Lopez, is a torrent of passionate rants about anger, disillusionment, and the craving for personal freedom. Already creating headlines, the video, featuring a cavalcade of nude actors romping around the skyscrapers of San Juan's business district, could be Calle 13's most defiant statement yet.
"It was a call to wake up," asserts Residente. "It's like, drop everything. I know there are times when one can't drop everything, but at least to have that spirit to be able to drop everything suddenly and give a chance to other things that are important."
"Latinoamérica," which features guest vocal appearances by Latina goddesses Maria Rita (Brazil), Susana Baca (Peru) and Totó La Momposina (Colombia), makes Calle 13's most lyrical case to date for cultural unity. The newest single, "Vamo' a Portarnos Mál" (Let's Behave Badly) is a metaphorical call for Latino youth to act up in the hopes that bad behavior can turn a disappointing world upside down.
The wildly eclectic mixture of Latin American genres and rhythms that Vistante has pioneered throughout the band's five-year career is also strongly represented on "Entren Los Que Quieran."
"Latinoamérica" features a syncopated Andean rhythm similar to the one they used on "Llega a mi Guarida," from "Residente o Visitante," but sounding a little more like "Argentine mountain folklore," as Residente says. Legendary Latin alternative producer Gustavo Santaolalla also makes an appearance on the track, playing folkloric instruments. "Vamo' a Portarnos Mál" is a merengue with a bit of that old-time ska that used to make everyone pogo from Jamaica to London to Mexico City.
In a way, Residente is most excited about "Entren Los Que Quieran" because of what he feels is the album's "maturity." "You can feel that there's a band here, behind Calle 13," says Residente. "You can feel the musical influences more, you can feel the journey more." Constant touring with the 11-piece band that backs Residente and Visitante (as well as their sister, PG-13) has created a level of familiarity that translates into a strong creative base.
"We're not afraid to put live instrumentation on the album," Residente says. "Once you work a lot with live musicians, it makes it hard to work with canned electronic stuff—it feels empty."
Visitante, Residente's brother who shared the semi-urban, semi-suburban existence that shapes Calle 13's world-view, has quietly grown into one of the most vital composers and beat masters in Latin music today. He studied at the Conservatorio de Música and at Escuela Manolo Acosta, where he learned to play the saxophone and the flute. He is a self-taught classic guitarist, but has used new music technology to wield a creative palette that allows him to fuse rock and hip hop with the wide array of traditional genres the band has absorbed from their journeys around Latin America.
Thankfully, according to Residente, the band no longer has to deal with one of the controversies that marked their early career—were they a reggaetón band or not? While there have always been tracks that reflected the group's passion for the sexy dance floor rhythm that was blowing up when they first hit the scene in 2005, it was never just about that.
The lyrical and musical growth of Residente and Visitante have been a testament to their transcendence of the reggaetón world. And besides, they've come to peace with the genre's major figures.
"I'm urban, more than anything else," says Residente. I wanted to be respected within urban music a little, but now it's not necessary. They follow me on Twitter and they talk to me, and I'm cool. There are much bigger problems than to be arguing about that stuff."
Artist websites:
www.facebook.com/calle13oficial
www.youtube.com/calle13official
Label websites:
4 Responses to "Calle 13 Regressa El 22 De Noviembre Con "Entren Los Que Quieran"/Calle 13 Returns With "Entren Los Que Quieran" (Everybody Is Welcome) On November 22"
[…] decir mucho e inclusive sin haber escuchado mucho el nuevo album de Calle 13 "Entren los que quieran", debo decir que me gustó más su material anterior, pero la introducción de este nuevo es […]

Learn how to play a guitar today. Lots of video tutorials and guides…

Calle 13 Regressa El 22 De Noviembre Con "Entren Los Que Quieran"/Calle 13 Returns With "Entren Los Que Quieran" (Everybody Is Welcome) On November 22 « SML Press…

300…

[…]Calle 13 Regressa El 22 De Noviembre Con "Entren Los Que Quieran"/Calle 13 Returns With "Entren Los Que Quieran" (Everybody Is Welcome) On November 22 « SML Press[…]…

solo tienes que clickear para ir a la fuente

Calle 13 Regressa El 22 De Noviembre Con "Entren Los Que Quieran"/Calle 13 Returns With "Entren Los Que Quieran" (Everybody Is Welcome) On November 22 | SML Press