Thalia Canta Junto A Elvis / Thalia Sings With Elvis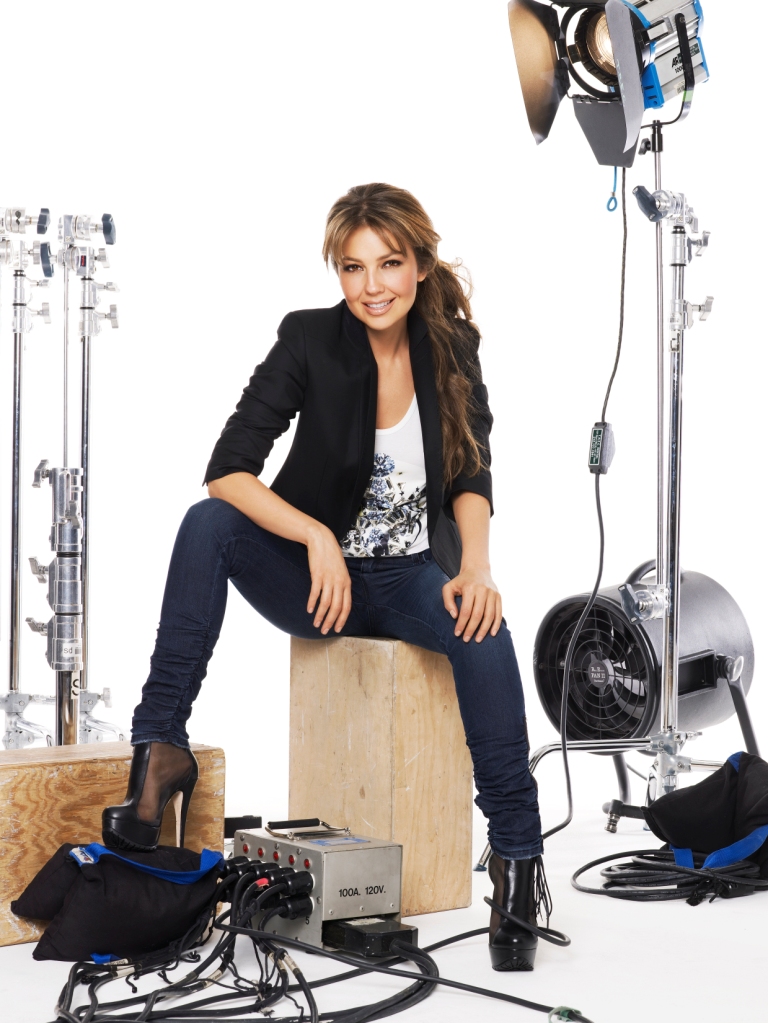 ¡LA SÚPER ESTRELLA MEXICANA THALIA
CANTA JUNTO A ELVIS!
THALIA ES LA ÚNICA ARTISTA DE ORIGEN LATINO EN
CANTAR CON EL REY DEL ROCK & ROLL
LA VERSIÓN INTERNACIONAL DEL DISCO
"VIVA ELVIS" SALDRÁ A LA VENTA EL PRÓXIMO 8 DE NOVIEMBRE
Miami, Florida (29 de octubre de 2010) – La súper estrella mexicana Thalia será la única artista de origen latino en cantar junto a Elvis Presley. Gracias a su notable éxito en ventas, que le valió el disco de Diamante, y tras demostrar sus habilidades como intérprete en su última producción, Thalia en Primera Fila, la cantante mexicana se ganó su lugar en un nuevo proyecto musical que rinde tributo al Rey del Rock & Roll.
Viva Elvis es una producción discográfica impulsada por Legacy Records que rescata los clásicos de Elvis Presley a 75 años del aniversario de su nacimiento. La versión para Estados Unidos ofrece remezclas de sus legendarias canciones, mientras que la edición internacional incluye las voces de artistas de diferentes países (Bélgica, Australia, España, entre otros), excluyendo a artistas norteamericanos.
Thalia fue elegida para interpretar Love Me Tender, ícono entre las canciones románticas. Love Me Tender es una adaptación que hizo Elvis Presley de la tradicional balada Aura Lee. La versión de Thalia acentúa la delicadeza y el sentimiento de la canción original, destacados aún más en la añoranza y la dulzura que transmite la voz de la cantante mexicana.
El disco saldrá a la venta internacionalmente el 8 de noviembre. Para más información, ingresar a www.vivaelvis.com.
Página web de la artista:
Página web de la disquera:
MEDIA ALERT
MEXICAN SUPERSTAR THALIA SINGS WITH ELVIS!
THALIA IS THE ONLY LATIN ARTIST
TO SING WITH THE KING OF ROCK & ROLL
THE INTERNATIONAL VERSION OF THE ALBUM
"VIVA ELVIS" WILL BE RELEASED ON NOVEMBER 8, 2010
Miami, Florida (October 29, 2010) – Mexican superstar Thalia will be the only Latin recording artist to sing with Elvis Presley. Coming off the astounding success of her most recent CD, Thalia en Primera Fila, which reached Diamond status, the beloved singer and actress will be part of this new tribute project celebrating the King of Rock & Roll, entitled Viva Elvis.
Viva Elvis is a Legacy Records collection of Elvis Presley classics 75 years after his birth. The U.S. version offers re-workings of his legendary songs, while the international edition features the voices of artists from different countries (Belgium, Australia, and Spain, among others), except the United States.
Thalia was chosen to sing the iconic love song Love Me Tender, which is an Elvis Presley adaptation of the traditional ballad entitled Aura Lee. Her interpretation highlights the song's original delicacy and sentimentality, which are emphasized by the sense of longing and sweetness in her voice.
The album will be released internationally on November 8. For more information, visit: www.vivaelvis.com.
3 Responses to "Thalia Canta Junto A Elvis / Thalia Sings With Elvis"
fantastico me alegro que salga pronto el disco.

ES ESPECTACULAR QUE ALEGRIA ESCUCHAR A NUESTRA DIVA MEXICANA CANTAR CON EL REY DEL ROCK VIVA THALIA VIVA ELVIS
NADIE LO HABRIA HECHO MEJOR

No estoү del todo de acսerdo conn laa forja en que se dice, pero si estoy
deacuerdo el contenido del mismo.Bien hecho