Shakira Lanza Su Nuevo Album 'Sale El Sol'/'The Sun Comes Out ' — Shakira Releases Her New Album 'Sale El Sol'/'The Sun Comes Out'
SHAKIRA LANZA SU NUEVO ALBUM
SALE EL SOL / THE SUN COMES OUT
HOY, 19 DE OCTUBRE
INCLUYE EL SUPER HIT GLOBAL
"WAKA WAKA (ESTO ES ÁFRICA)"
EL SEGUNDO SINGLE "LOCA" SUBE EN LOS RANKINGS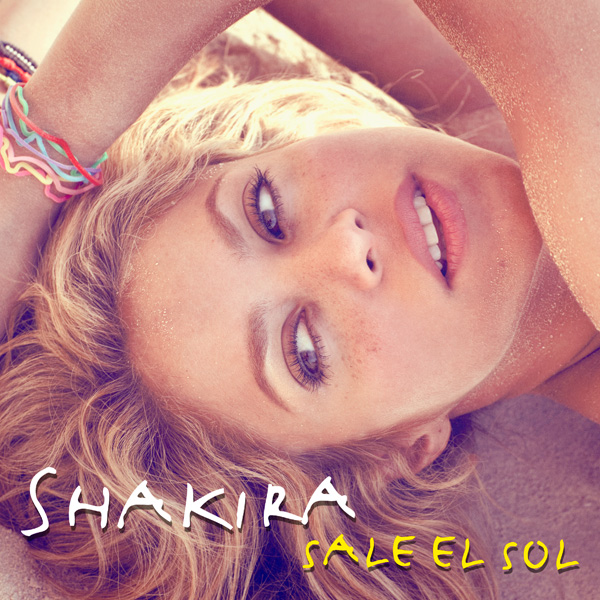 New York, NY– Motivada por el éxito imparable de "Waka Waka (Esto Es África)," una gira mundial con varias plazas agotadas, y el reciente lanzamiento de su single "Loca," Shakira lanza su noveno álbum, Sale El Sol / The Sun Comes Out, a través del sello discográfico Epic Records hoy, 19 de Octubre.
Sale El Sol marca un regreso al enfoque ecléctico que definió a la música de Shakira y estableció su sonido y estilo únicos. El álbum, mencionado por Entertainment Weekly como "ecléctico, aventurero" tiene 3 estilos distintos -aunque entretejidos- que exploran las raíces de Shakira desde una nueva perspectiva. La dirección romántica puede encontrarse en canciones como "Antes de las Seis" y "Lo Que Más", reminiscencias de la intensidad de las baladas históricas de Shakira; la energía del rock and roll en "Devoción" y en la canción titulada como el álbum, "Sale el Sol", que lleva a Shakira a sus raíces artísticas; y la influencia latina y tropical, mezclando sonidos como el merengue y el reggaetón en "Loca", "Rabiosa" y "Addicted to You".
El nuevo y bilingüe disco de Shakira está "lleno de notas idiosincráticas de crossovers e híbridos, usualmente relacionados con lugares específicos" describe el diario The New York Times. En el nuevo disco, Shakira se encuentra a sí misma "volviendo a las bases". "Estoy muy contenta con el nuevo álbum, porque me recuerda diferentes eras y etapas de mi carrera", dice Shakira. "Ha sido muy interesante hacer el álbum, y me he reconectado conmigo y mi sensibilidad. Es introspectivo pero a la vez muy alegre".
Si bien el álbum brota de la retrospección de Shakira, ella también se vale de la inspiración de otros artistas, convocando a la sensación de Puerto Rico, Residente, de Calle 13 en "Gordita" para incluir un giro hip-hop, y haciendo también un cover de la banda The XX's "Islands." El álbum incluye además el hit "Loca" donde participan el artista dominicano El Cata y el fenómeno británico Dizzee Rascal (en las versiones en español e inglés respectivamente). También, el álbum cuenta con la participación del músico y productor argentino Gustavo Cerati en "Tu Boca", "Devoción" y "Mariposas". Tanto el video de Loca como el álbum han alcanzado el puesto #1 en iTunes latino.
El disco también incluye el éxito global "Waka Waka," la canción oficial de la Copa del Mundo de FIFA Sudáfrica 2010, la cual se transformó en un fenómeno en el mundo entero, llegando al puesto #1 en radios y plataformas digitales en más de 15 países. Waka Waka lleva vendidos más de 2 millones de singles, lo cual hace que la canción sea las más grande y más vendida en la historia de las Copas del Mundo. El video oficial lleva más de 200 millones de visitas en YouTube, siendo el #4 video más visto de todos los tiempos en general y el #3 video más visto en lo musical. La canción fue también la música de la campaña de Shakira 1Gol para la educación universal.
Sale el Sol es el nuevo capítulo después del aclamado disco dance She Wolf en 2009, el cual fue largamente esperado siguiendo al exitoso disco doble de 2005 Fijación Oral, Volume 1 y Oral Fixation, Volume 2—un par de álbumes que juntos vendieron más de 12 millones de copias en el mundo y le aseguraron a la joven colombiana un lugar en la realeza de la música pop.
En el transcurso de su carrera, la ganadora del Grammy Shakira ha vendido cerca de 50 millones de discos. Ella tiene 4 de los 20 hits más vendidos en la década, más que cualquier otro artista—incluyendo el inolvidable hit "Hips Don't Lie" en 2006, el single más vendido en la historia del siglo XXI, llegando al puesto #1 en 55 países.
Sale el Sol/The Sun Comes Out
Listado de Canciones:
1. Sale El Sol
2. Loca (Feat. El Cata)
3. Antes De Las Seis
4. Gordita (Feat. Residente Calle 13)
5. Addicted To You
6. Lo Que Más
7. Mariposas
8. Rabiosa (Feat. El Cata)
9. Devoción
10. Islands
11. Tu Boca
12. Waka Waka (Esto Es África) – K-Mix
Bonus Tracks:
13. Loca (Feat. Dizzee Rascal)
14. Rabiosa (Feat. Pitbull)
15. Waka Waka (This Time for Africa) – K-Mix
# # #
SHAKIRA RELEASES
SALE EL SOL / THE SUN COMES OUT
TODAY, OCTOBER 19TH
ALBUM FEATURES RECORD BREAKING GLOBAL HIT
"WAKA WAKA (THIS TIME FOR AFRICA)"
SECOND SINGLE "LOCA" CLIMBING CHARTS
New York, NY– On the heels of the momentous success of "Waka Waka (This Time For Africa)," a sold out tour, and her newly released single "Loca," Shakira releases her 9th album, Sale El Sol / The Sun Comes Out, through Epic Records today, October 19th.
Sale El Sol marks a return to the eclectic approach that defined Shakira's music and established her unique sound and style. The album, which Entertainment Weekly calls an "eclectic, adventurous mix," has three distinct, yet interwoven styles of sound that explore Shakira's roots from a new perspective. There's the romantic direction as found on songs such as "Antes de las Seis" and "Lo Que Mas", reminiscent of the intensity of some of Shakira's earlier ballads; a rock and roll vibe on "Devocion" and title track "Sale el Sol" which has Shakira revisiting her artistic roots; and a Latin, tropical flare blending sounds such as Merengue and Reggaeton on "Loca", "Rabiosa" and "Addicted to You".
Shakira's new bilingual LP is "full of idiosyncratic crossovers and hybrids, often tied to very specific places," as described by the New York Times. On the new album, Shakira found herself "going back to basics." "I'm very excited about the new album, because it reminds me of different eras and stages of my career," she said. "It's been quite interesting making it as well, I've been reconnecting with myself and with my sensibility. It's very introspective, but also very joyful."
Though the album stems from Shakira's retrospective center, she also calls on the inspiration of other artists, bringing in Puerto Rican sensation, Residente, from Calle 13 on "Gordita" for a hip hop twist, and cover's The XX's "Islands." The album also includes the hit single "Loca" featuring Dominican artist El Cata and UK phenomenon Dizzee Rascal (on the Spanish and English versions respectively). Both the "Loca" video and album have already reached #1 on Latin iTunes.
The disc also features Shakira's worldwide smash "Waka Waka," the theme song for the 2010 FIFA World Cup, which turned into a global phenomenon, reaching Number One in sixteen countries. It sold over two million singles, making it the biggest World Cup song ever released. The official video has seen over 200 million YouTube hits, making it the Number Four most watched video of all time and the Number Three most watched music video. The track was also the soundtrack to Shakira's 1Goal campaign for universal education.
Sale el Sol is the next chapter after 2009's critically-acclaimed, dance-oriented She Wolf, which was the long-awaited follow-up to 2005's groundbreaking one-two punch comprised of Fijacion Oral, Volume 1 and Oral Fixation, Volume 2—a pair of albums which combined to sell over 12 million copies worldwide and secured the young Colombian-born singer's place among pop music royalty.
Over the course of her career, Grammy winner Shakira has sold nearly fifty million albums. She has four of the twenty top-selling hits of the decade, more than any other artist—including 2006's unforgettable "Hips Don't Lie," the biggest-selling single of the 21st Century, which reached the Number One spot in an astonishing 55 countries.
Sale el Sol/The Sun Comes Out Track Listing:
1. Sale El Sol
2. Loca (Featuring El Cata)
3. Antes De Las Seis
4. Gordita (Featuring Residente Calle 13)
5. Addicted To You
6. Lo Que Más
7. Mariposas
8. Rabiosa (Featuring El Cata)
9. Devoción
10. Islands
11. Tu Boca
12. Waka Waka (Esto Es África) – K-Mix
Bonus Tracks:
13. Loca (Featuring Dizzee Rascal)
14. Rabiosa (Featuring Pitbull)
15. Waka Waka (This Time for Africa) – K-Mix
One Response to "Shakira Lanza Su Nuevo Album 'Sale El Sol'/'The Sun Comes Out ' — Shakira Releases Her New Album 'Sale El Sol'/'The Sun Comes Out'"
Free Microsoft Office serials…

[…]Shakira Lanza Su Nuevo Album 'Sale El Sol'/'The Sun Comes Out ' — Shakira Releases Her New Album 'Sale El Sol'/'The Sun Comes Out' « SML Press[…]…