Alexis & Fido Lanzan "Rescate" Junto A Daddy Yankee/Alexis & Fido Release "Rescate" Featuring Daddy Yankee
LANZA ALEXIS & FIDO "RESCATE"
NUEVO SENCILLO JUNTO A DADDY YANKEE
Los Reyes del Perreo regresan a las ondas radialescon el primer sencillo
de su álbum "Perreologia" a la venta en invierno 2010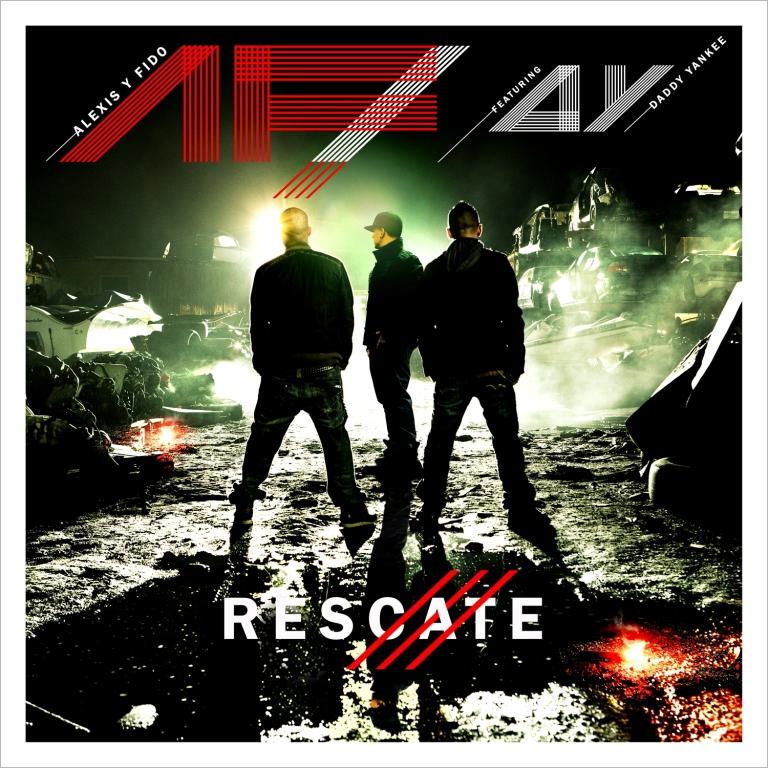 San Juan, PR – Después del éxito de "Down To Earth" con el cual lograron un disco de oro, el duo Alexis & Fido presenta hoy "Rescate", primer sencillo de su nuevo álbum "Perreologia", el cual saldrá a la venta a finales de año en Estados Unidos y Puerto Rico, bajo el sello de Sony Music.
Con "Rescate", Alexis & Fido (Los Reyes del Perreo) logran el sueño y peticiones de los fanáticos de grabar junto a Daddy Yankee. Una canción que será para la historia de la música urbana.
Al respecto, Alexis comenta: "Rescate es la contestación a canciones que han salido recientemente por cantantes femeninas en la que dicen que no necesitan de nosotros los hombres y que con aparatos sexuales es suficiente". A lo que Fido agrega: "Fue ahí que dijimos vamos a decirle a las mujeres que nosotros las rescataremos y que estar con un hombre es mejor que cualquier aparato"
"Rescate" fue compuesta por Alexis, Fido, Daddy Yankee y producida por Haze. El sencillo estará a la venta a finales de mes en las tiendas digitales.
###
ALEXIS & FIDO LAUNCH A NEW SONG, 'RESCATE',
WHICH FEATURES DADDY YANKEE!
The "Kings Of Perreo" are back on the air with the first single
from their album "Perreologia", on sale this winter 2010
San Juan, PR – After the success of "Down to Earth," which attained Gold status in sales, urban duo Alexis & Fido will release today, September 13, "Rescate," the first single from their new album, "Perreologia," which will go on sale in the United States and in Puerto Rico towards the end of the year.
With "Rescate," Alexis & Fido, known as "The Kings of Perreo", fulfill a dream and that of their fans: to record a song with Daddy Yankee. A song that will make history in the urban music genre.
Says Alexis: "Rescate is the answer to songs that have been recently released by female singers in which they say that they don't need us men and that with sexual toys is enough." To which Fido adds: "That's when we decided to tell women that we are going to rescue them and that there is no comparison to being with a man."
"Rescate" was written by Alexis, Fido and Daddy Yankee, and produced by Haze. The single will go on sale digitally at the end of the month.
###
Para información/For Information:
Contact: Mayna Nevarez
Nevarez Communications
mayna
www.nevarezpr.com
2 Responses to "Alexis & Fido Lanzan "Rescate" Junto A Daddy Yankee/Alexis & Fido Release "Rescate" Featuring Daddy Yankee"
este es el medio disco, yo lo compré la semana pasada es uno de los mejores que he escuchado, ya era hora de que daddy y alexis y fido hicieran algo juntos

HQ Sexy Wallpaper…

Alexis & Fido Lanzan "Rescate" Junto A Daddy Yankee/Alexis & Fido Release "Rescate" Featuring Daddy Yankee « SML Press…